Wolfram has been called the 'Poet Laureate of Band Composers'. Invictus features 60 minutes of rich instrumental textures with a broad range of compositional styles. This new studio recording features many of Los Angeles' finest performers.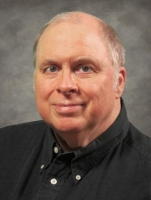 FOR IMMEDIATE RELEASE / PRURGENT

Award-winning composer Mark E. Wolfram has announced the release of a new CD, Invictus, featuring nine new works for winds and percussion, performed by the Los Angeles Studio Wind Ensemble.

Wolfram's intimate familiarity with the wind and percussion genre results in a concert band recording that is a testament to his incredible talent, dedication, and artistic vision. Each piece has been crafted with intricate attention to detail and exemplifies a deep understanding of the unique qualities of wind and percussion instruments. The end result is a musical experience like no other, offering both performer and listener a breathtaking display of skill, precision, and artistry. It is exciting music that balances audience-pleasing accessibility while inspiring players to exceed their own limits.

Sheet music for all music on the CD is available from Sound Studio Productions. Selections include:

The Swashbuckler (A Concert March) for Band
Invictus (for Concert Band)
With Malice Toward None (A Hymn for Band)
The Tucson March (for Concert Band)
Monkey Mind (for Concert Band)
Four Fripperies for Band - Mvt. 1 "Afternoon Jaunt"
Four Fripperies for Band - Mvt. 2 "Ripples on a Shimmering Pond"
Four Fripperies for Band - Mvt. 3 "Comings & Goings"
Four Fripperies for Band - Mvt. 4 "March Azure"
Paean (for Concert Band)
Homily (for Concert Band)
Labyrinth (for Concert Band) - Mvt. 1 "The Journey Begins"
Labyrinth (for Concert Band) - Mvt. 2 "Meandering Paths"
Labyrinth (for Concert Band) - Mvt. 3 "Ritual Dance"

The composer has always been a cross-pollinator, drawing inspiration from all of the arts, verbal as well as visual and aural; the title piece of his new CD came from one of his favorite poems by William Henley, "Invictus," which tells of the triumph over adversity - and was invigorated from a viewing of the classic film KING'S ROW (1942), in which Henley's poem is summarized near the end of the film. Wolfram's 9-minute piece reflects the poem and evokes the struggles and ultimate exultant victory over hardship and injustice.

This indomitable spirit is echoed in other titles on his CD, from the flamboyant swagger of THE SWASHBUCKLER to WITH MALICE TOWARDS NONE (based on Abraham Lincoln's 2nd Inaugural Address) to solving the puzzle that is LABYRINTH. Wolfram's PAEAN and HOMILY reflect sober, reverent lessons, while FOUR FRIPPERIES, MONKEY MIND and THE TUCSON MARCH embody more joyful fare.

The Los Angeles Studio Wind Ensemble consists of 24 of the finest recording studio musicians who were engaged for two days to record Mark's wind band creations. Since COVID restrictions limited the number of musicians and social distancing they would need, multi-track technology was necessary to bring the performances to fulfillment.

Wolfram's new concert band studio recording has received rave reviews:

"In my opinion, there's nobody else writing for wind band like Mark Wolfram...his is a unique, passionate, sophisticated and honest voice that needs to be heard, and these new wind band pieces need to be performed!" - Marcellus Brown, Director of Bands - Boise State University

"I keep commissioning Mark and he always delivers! It helps that he's a master of orchestration, weaving colors and textures, melodies and propulsive rhythm into vibrant new works. Every musician gets rewarded with interesting lines to play; it's a win-win for everyone in the band and in the audience!" - László Veres, Arizona Symphonic Winds of Tucson

"Mark's stylistic breadth is always wonderful, from 'The Swashbuckler' to a completely contrasting work like 'Paean', Mark's pieces are really engaging and enjoyable - so well crafted." - Lt. Col. Bryan Miller, Conductor, Air National Guard Band of the Midwest

"I've just finished listening to Mark Wolfram's concert band music, recently recorded in L.A. by a group of top musicians. Beautifully written, his music is interesting, colorful, and optimistic. By "optimistic" I mean that his pieces either start optimistically or, if begun on a somber or disquieting way, tend to move in an optimistic direction, leaving the listener feeling good, even exalted! By "interesting", I mean Wolfram's choices of instrumental colors are excellent and never stay long in a territory that might bore listeners. This is achieved through his exceptional sense of form and his ability to change textures or to create welcome harmonic or melodic surprises.

The range of music that he has created varies from a sprightly march ("The Tucson March") to more challenging forays into the human psyche and emotions ("Monkey Mind", "The Swashbuckler"). Many pieces are witty, rhythmically energized, and delightful ("Four Fripperies for Band"). All the pieces are masterfully orchestrated, influenced by greats such as Sousa, Gil Evans, and John Williams. All are orchestrated so well that I didn't miss the strings. Bravo, Mark Wolfram!" - Jack Perricone, Chair Emeritus, Songwriting - Berklee College of Music

INVICTUS - Nine New Works for Winds & Percussion (WRCD-2255) is distributed internationally on the web at http://www.wrightwoodrecords.com.

Mark Wolfram is available for interviews and appearances. For more information contact Betty Richards at bettyrichards
wrightwoodrecords.com.

About Mark Wolfram:

Award-winning composer Mark Wolfram brings over 45 years of experience as a professional composer, arranger, orchestrator and musician to every project he writes. In addition to his ever-growing list of works for wind ensemble, Mark has enjoyed a multi-faceted career creating music for the concert stage, television programs, Broadway shows, jazz and pop recording artists and advertising clients, as well as having arranged for Diana Ross & The Supremes, Peter Cetera, Kenny Rogers, The Irish Tenors, Cybill Shepherd, Chris Isaak, Joe Williams, Lena Horne, Doc Severinson, Peter Nero, The Chicago Jazz Philharmonic, and ABC-TV's Monday Night Football. Mark has composed and produced original scores for General Hospital, Another World, Riptide and Hanna-Barbera cartoons. Mark's "Interludes for Percussion and Trumpet" is performed internationally and his "Brass Trio (1988)", which took Grand Prize in the 1989 International Horn Society Competition, is frequently performed on four continents. His instrumental works continue to be played at Disneyland and Walt Disney World, as well as by the Chicago Bears Band and numerous college, high school and community music ensembles.

Mark's ongoing passion for creating new and exciting music for concert band includes recent compositions for the following ensembles: St. Olaf Concert Band, Boise State University Symphonic Winds, the University of Oregon Wind Ensemble, Minnesota State University Mankato Concert Wind Ensemble, Wright State University Symphonic Winds, the City of Lakes Community Band, the Medalist Concert Band, the Tucson Pops Orchestra and the Arizona Symphonic Winds of Tucson.