10% Off The Lashe® eyelash extension products for the month of November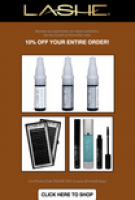 FOR IMMEDIATE RELEASE / PRURGENT

In celebration of our wonderful customers, Use Promo Code THANKYOU to RECEIVE 10% OFF your entire order of Lashe products every day in November!


The Lashe® is committed to providing premium quality products and services. Our mission is to constantly offer the most innovative and safe products, along with comprehensive education. The products and education were designed to be a complete system. Our application and aftercare products are all produced in the USA, with the highest quality standards.