Seeds of Eden is the first in the Privileged Secrets Trilogy softcover release and Special Promo.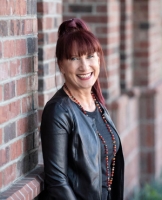 FOR IMMEDIATE RELEASE / PRURGENT

Author Harper Woods, with personal courage and razor-sharp insight, delved into dark secrets behind the sealed doors of a cult to write her first book, Seeds of Eden, book one of her Privileged Secrets trilogy.

Though fictionalized, her book—based on both personal experience and extensive research— reveals practices that would shatter the foundation of beliefs for millions of followers. The edge-of-your-seat thriller both engrosses and educates, as it weaves a tale of national significance and international intrigue.

In this first novel—a fascinating blend of modern suspense and historical fantasy— Woods takes us back to the dawn of time, introducing readers to Erica Pfeiffer, an undercover agent for a centuries-old resistance organization whose mission is to expose evil forces and corruption. Each additional character, both allies and enemies, are richly drawn, sometimes sympathetic, sometimes terrifying.

Harper's publishers are offering the new print edition of Seeds of Eden at a special price in honor of its release during July as the nation celebrates independence, the key concept at the heart of America's founding. The author also offers clues and insights through her thoughtfully crafted social media posts.

Recently Released: The professionally produced Audible Seeds of Eden Audio Book, with its multiply-accented characters performed by noted Audible narrator Celeste DePuy, and produced by Haven Books Audio.

When asked her reasons for writing such a controversial book that unearthed painful childhood memories, the author explained, "When I felt I had done enough healing and recovery from leaving the religion, and I could look at my past without it triggering emotions any more—that's when I knew it was time to write. The inspiration came literally streaming into my consciousness so fast that I could hardly write it down fast enough."

Profile:

Harper Woods is the pen name for Sherrie Berry, a successful entrepreneur, business coach and motivational speaker. As a skin care formulator, she was the first in history to extract and import CBD into the U.S., she has been featured in Lioness and Locale magazines, and her articles have been published in DaySpa and Organic Spa magazines. And she is the founder of Sharing Shoes—a social media group who share in her passion to end child sexual abuse, and to break up pedophile rings within religious cults. Sherrie is the author of three previous non-fiction books, Anti-Aging Hacks, Reverse Aging, and CBD for Beginners.