Author/illustrator Papa Paws releases book three of The Everyday Adventures of Papa & Paws children's picture book series.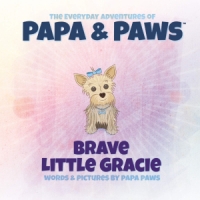 FOR IMMEDIATE RELEASE / PRURGENT

The Everyday Adventures of Papa & Paws is a children's picture book series based on the real-life adventures of the Paws family. Created by a dog dad, these heartwarming adventures are perfect for kids (and parents) who love dogs.

"Waiting is good for you. It helps you to really appreciate your treat when you finally get to enjoy it." -Papa Paws

Nicholas J. Nawroth is Papa Paws. He's a children's book author/illustrator and graphic designer who lives in Ohio with Mama Paws and their doggies.

In Brave Little Gracie, Molly and her sisters ask Mama to tell them the inspiring story of the bravest Yorkie, Gracie. Life was tough for little Gracie. She started out in a not-so-nice place before finding a home with the Paws family. No matter the obstacle, Gracie never stopped being a happy doggie who loved everyone she met.

This book features full-color illustrations of cute doggies throughout and is perfect for:

Kids ages 2-5(ish) who love dogs.
Moms and dads who read to their kids.
Big brothers and big sisters who enjoy reading to their younger siblings.