Crow writes meticulously researched, entertaining novels of romance, history, adventure and mystery in an engaging you-are-there style that allows readers to live the history. Reviewers have compared her work to PD James, Dan Brown and Barbara Pym. Her fall picks include Jane Austen and Laurie Lee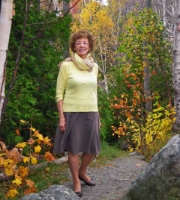 FOR IMMEDIATE RELEASE / PRURGENT

Fall is the time of year when many of us begin to wind down from all those vacation and summer fun activities. Not so this year. The pandemic has put a crimp in our lifestyles that will most likely continue throughout the season. While there are still many things we cannot do, there is one thing we can do - read. Reading can serve as a momentary escape, as an exhilarating adventure, a comfort or perhaps just a temporary reprieve from the stress of dealing with the disruption in our lives. Award winning author Donna Fletcher Crow recently offered some suggestions for Autumn reading:

"Autumn is my favorite time of the year—I love the crisp days, the colorful foliage; I love taking walks in crunchy leaves, savoring that special tang to the autumn air; I love celebrating Harvest Festival at church, and handing out candy to our neighborhood spooks for Halloween.

"But not this year. Apart from harvest and Halloween parties being locked down due to the Coronavirus, in our area devastating wildfires have turned our sky brown, making eyes water and noses run. Taking long walks—crunchy leaves or not—has become a health hazard. And, it seems we have the best of it. In surrounding states large areas, including people's homes, are consumed in flames, while other parts of the nation are ripped by hurricanes.

"If, like myself, you are missing your normal fall pleasures and escapes, I invite you to read with me as I return to some old favorites that evoke autumns of happier times.

Top of my list is always Jane Austen—in this case, 'Persuasion', Austen's last and "most autumnal" novel. Here, Anne Eliot undertakes an autumn stroll: '[P]leasure in the walk must arise from the exercise and the day, from the view of the last smiles of the year upon the tawny leaves, and withered hedges, and from repeating to herself some few of the thousand poetical descriptions extant of autumn, that season of peculiar and inexhaustible influence on the mind of taste and tenderness, that season which had drawn from every poet, worthy of being read, some attempt at description, or some lines of feeling.'

"Another long-time favorite is Laurie Lee's 'Cider With Rosie'. Although it begins in June, we are given a wonderful account of that autumn when the young Lee arrives 'at school just three feet tall and fatly wrapped in scarves' by his sisters. A wonderful evocation of by-gone days.

"My delight in autumn is exemplified in my own novels as well. The nostalgic 'The Flame Ignites' is set in October of 1984 when the New England hillsides are ablaze with redgold autumn and reflects my love of having lived in New England. My heroine and her cousin go for a rambling drive to buy pumpkins at a roadside stand, then 'home with golden afternoon sun filtering through the autumn foliage and scarlet and orange leaves drifting down on them.'

"In the opening of my Victorian true crime novel 'A Most Inconvenient Death', Lord Danvers takes to the sky in his aerostat and arrives at the coming of age party for his old friend's son, skimming 'barely above the autumn-bright trees.'

"The Arthurian epic 'Glastonbury' depicts Celtic life in Roman Britain during fall-of-the-leaf time: 'The evening shadows lengthened, and the golden glow of an autumn sunset spread over the island... An evening thrush sang, and the harpsong answered it. The flames danced, and the melody swayed with them. Autumn leaves rustled in the trees, and harp notes chased them.'

"In my late Regency novel 'Where Love Restores' the characters experience autumn in Cambridge: 'The fallen leaves were damp from autumn rains, and a thin mist clung to the ground. Tree branches over their heads took on a delicate beauty as the gray sky gave way to the spreading pink glow of dawn. It would be a fine day... For some moments they stood listening to the tiny rustles and scurries among the leaves and branches—small animals hurrying to gather their autumn food stores before winter.' Later they are drawn into helping villagers with the harvest and join in the traditional feasting.

"Perhaps it's not quite the same as taking my own walk in an autumn-hued woods, but the best way I know to experience the season virtually. Do join me."

Donna Fletcher Crow is the author of 50 books, mostly novels of British history. She has taken a number of high-level industry awards for her work. 'Glastonbury' is her best-known book, which received the prestigious First Place, Historical Novel, award from the National Federation of Press Women. Readers and reviewers have raved about 'Glastonbury', calling it "The best of its kind," "richly fascinating," "beautifully researched," "gloriously evocative," and "panoramic." One Amazon reader said, "WHAT a work! Every reader can be enveloped in the sheer scope and quality, every historian be constantly nodding at the precise detail and accuracy, and every Christian can rejoice in the fullness of scripture. For me it is simply beyond descriptive praise. I would urge all who value truth to treat themselves to a feast."

The Elizabeth & Richard Mysteries is a literary suspense series using literary figures as background: Rudyard Kipling in 'The Flame Ignites', Dorothy L Sayers in 'The Shadow of Reality', Shakespeare in 'A Midsummer Eve's Nightmare', and Jane Austen in both 'A Jane Austen Encounter' and 'A Most Singular Venture'. Watch for 'A Prodigious Sum of Corpses: Seeking Sanditon at Jane Austen's Seashore', which will take readers to all of Austen's favorite seashore resorts. Accounts of Crow's visits to these sites are available on her blog under the heading "Jane Austen Seashore Tour."

The Lord Danvers Victorian true-crime series is an Amazon bestseller in the British Detectives category. Books in the series include 'A Lethal Spectre', 'A Most Inconvenient Death', 'Grave Matters', 'To Dust You Shall Return' and 'A Tincture of Murder'. Donna provides a no-charge download of 'A Tincture of Murder' for those who sign up for her newsletter. More information is available at her website.

Where There is Love is a 6-book series of the enduring legacy of love and faith all based on historic people and events. The titles are: 'Where Love Begins', 'Where Love Illumines', 'Where Love Triumphs', 'Where Love Restores', 'Where Love Shines', and 'Where Love Calls'.

The Daughters of Courage, 'Kathryn', 'Elizabeth' and 'Stephanie' is a pioneer family saga based on the stories of Crow's own family and other Idaho pioneers in the Kuna, Nampa and Boise area. A short story on her blog entitled "A Nostalgic Fourth of July" is based on a scene from 'Kathryn: Days of Loss and Hope'.

The Monastery Murders Series features atmospheric contemporary crimes with their roots buried deep in the middle ages. Books in the series include 'A Very Private Grave', 'A Darkly Hidden Truth', 'An Unholy Communion', 'A Newly Crimsoned Reliquary', 'An All-Consuming Fire' and 'Against All Fierce Hostility.'

Donna Fletcher Crow's awards include:

Where Love Begins, Best Historical Romance, Pinnacle Awards 2019
A Lethal Spectre, Best Mystery, Pinnacle Awards, 2019
Glastonbury, First Place, Historical Fiction, National Federation of Press Women Award of Merit
The Banks of the Boyne, Silver Angel; First Place Historical Fiction, National Federation Press Women
The Fields of Bannockburn, First Place Historical Fiction, National Federation Press Women
Professional Achievement Award, Northwest Nazarene College
Juvenile Books Award of Merit, Idaho Press Women
Top Idaho Author
Pacesetter Award, Mt. Hermon Writers Conference
Outstanding Historical Fiction, Idaho Press Women, National Federation of Press Women,
Idaho Writer of the Year
Best Inspirational Novel, Finalist Romance Writers of America
Writer of the Year, Mt. Hermon Writers Conference

Donna is available for media interviews and can be reached by email at donna
donnafletchercrow.com. All of her books are available at online book retailers. More information, including a no-charge download of 'A Tincture of Murder', is available at her website at https://www.donnafletchercrow.com.

About Donna Fletcher Crow:

Donna and her husband live in Boise, Idaho. They have 4 adult children and 15 grandchildren living on 3 continents. Donna is a former English literature teacher and lifelong Anglophile. Idahoans with long memories will remember her as a former Queen of the Snake River Stampede, Miss Rodeo Idaho and runner-up for Miss Rodeo America. She is an enthusiastic gardener.