CEOs and executives in Dubai, London, Singapore and New York to get a comprehensive understanding and review of some of the most talked-about technology trends today and how these will impact business and society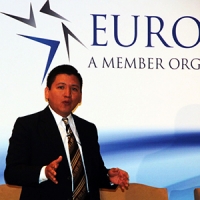 Despite the countless articles we read in the press about the impending demise of millions of workers across all industries, the application of Artificial Intelligence (A) today is in its very early stages. Even the most optimistic supporters of this technology will agree that achieving singularity, the moment when a computer will be as smart as a human, is still many decades away.

Furthermore, studies have shown that firms tend to expect that AI's future effects on total head count will be minor or positive. For all the tremendous achievements we see today, though, these rely on very narrowly focused applications of AI, which cannot be considered general intelligence.

However, these technologies will have a great impact on businesses as we move along. Bringing the most instructive and inspiring programs in these subjects to Dubai, New York, London and Singapore is Edgar Perez, well-known author and speaker on cutting-edge technologies:

· The Ultimate Business Disruptor: Quantum Computing

Classical computing was invented in the 1940s; the advent of Quantum Computing (QC) will make these computers look painfully slow. Calculations that would take longer than a human's life span to work out on a classic computer can be completed in a matter of hours or minutes with QC. Furthermore, QC will enable solving a set of problems that couldn't be solved before. QC's benefits include efficiently simulating new drug molecules and dramatically reducing the time complex financial calculations take, among many others. For optimization, sampling or search problems, this promises dramatic speedups. Mr. Perez will entertain your audience while revealing why Quantum Computing will disrupt companies in every industry.

· The Artificial Intelligence Breakthroughs that are Changing the World (https://www.terrapinntraining.com/training/3-Day-Masterclass-Deep-Learning )

Artificial intelligence has been referred as the general ability of a computer or robot to perform tasks commonly associated with intelligent beings. Through a comprehensive review of the latest artificial intelligence breakthroughs, Mr. Perez will offer his insights on how these advancements will impact businesses and the human race in general for years to come, and more specifically, how companies can leverage the plethora of available resources to start implementing solutions to problems that only a few years ago belonged to the realm of science fiction. Mr. Perez will reveal why artificial intelligence is the present and the future.

· Achieving Deep Impact with "State-of-the-art" Deep Learning

Deep learning has enabled many practical applications of artificial intelligence in today's organizations. Deep learning breaks down tasks in ways that makes all kinds of machine aids seem possible, even likely. Driverless cars, better image recognition, more effective medical diagnoses, even better movie recommendations, are all here today. Mr. Perez will identify what organizations need to do today to embrace the future, starting with the basics: empowering their employees and turbocharging the organization's data strategy. Once these two important tasks are accomplished, organizations can then launch pilots for the most promising opportunities, leveraging "state of the art" cases from today's global innovators such as Google, Facebook, Apple and Tesla. Mr. Perez will show organizations how to kick start their deep learning transformation.

· Social Engineering: The "Weakest Human Link" in Cybersecurity (https://www.terrapinntraining.com/training/826/3-Day-Masterclass-in-Cybersecurity )

Social engineering involves tricking your employees into breaching security protocols or giving away information, most often over the telephone or via email. Social engineering exploits human weaknesses rather than technology, preying upon people's propensity towards trust in particular. Often, these exploits are used to gather information to support a more targeted cyberattack, with the initial forays based on the premise of 'little and often' so as not to cause concern. Employees at all levels, including senior executives, are vulnerable. Mr. Perez will explain why by improving employee awareness and introducing simple technical measures, organizations can protect themselves against social engineering techniques and the risk of a cyberattack and its potential impact on business, customers and data.

· The Importance of the Cybersecurity Framework for Directors and CEOs

An email embedded with malware. Security systems hacked by thieves. Credit card numbers stolen from store purchases. There's certainly no shortage of examples when it comes to data security breaches and the havoc they wreak on business. No wonder then that nearly a third of CEOs in KPMG's latest global survey identified cyber security as the issue having the biggest impact on their companies today. Every organization should apply a Cybersecurity Framework for analyzing cyber security, and ideally it should be integrated into an organization's existing enterprise risk framework. The key is making it part of the mainstream of risk management within an organization. The most innovative companies today have recognized that cyber security is a customer experience and revenue opportunity, not just a risk that needs to be managed. Mr. Perez will explain why this must done across the entire organization and why the CEO and Board of Directors have the most important role to play.

ABOUT INSTRUCTOR EDGAR PEREZ

Edgar Perez is a great business speaker, a confident communicator and a world class motivator. Global executives have come to appreciate his wide-ranging insights on how they can better position their organizations for success through strong leadership and a comprehensive approach that links business strategy and disruptive technologies including artificial intelligence and deep learning, quantum computing and cyber security. A published author, keynote speaker and business consultant for private equity and hedge funds, he is Council Member at the Gerson Lehrman Group, Guidepoint Global Advisors and Internal Consulting Group.

Mr. Perez is author of The AI Breakthrough, How Artificial Intelligence is Advancing Deep Learning and Revolutionizing Your World (2018), Knightmare on Wall Street, The Rise and Fall of Knight Capital and the Biggest Risk for Financial Markets (2013), and The Speed Traders, An Insider's Look at the New High-Frequency Trading Phenomenon That is Transforming the Investing World, published in English by McGraw-Hill Inc. (2011), published in Mandarin by China Financial Publishing House (2012), and Investasi Super Kilat, published in Bahasa Indonesia by Kompas Gramedia (2012).

Mr. Perez has spoken at a number of global conferences, including Cyber Security World Conference (New York), Inside Market Data (Chicago), Emerging Markets Investments Summit (Warsaw), High-Frequency Trading Leaders Forum (New York, Chicago), MIT Sloan Investment Management Conference (Cambridge), CME Group's Global Financial Leadership Conference (Naples Beach, FL), Harvard Business School's Venture Capital & Private Equity Conference (Boston), Institutional Investor's Global Growth Markets Forum (London), TradeTech Asia (Singapore) and FIXGlobal Face2Face (Seoul). In addition, Mr. Perez has presented to the Council on Foreign Relations, Vadym Hetman Kyiv National Economic University (Kiev), Quant Investment & HFT Summit APAC (Shanghai), U.S. Securities and Exchange Commission (Washington DC), CFA Singapore, Hong Kong Securities Institute, Courant Institute of Mathematical Sciences at New York University, University of International Business and Economics (Beijing) and Hult International Business School (Shanghai), among other public and private institutions.

Mr. Perez has been interviewed on CNN's Quest Means Business, CNBC's Squawk on the Street, Worldwide Exchange, Cash Flow, Street Signs and Squawk Box, FOX BUSINESS's Countdown to the Closing Bell and After the Bell, Bloomberg TV's Market Makers, CNN en Español's Dinero, Petersburg – Channel 5, Sina Finance, BNN's Business Day, CCTV China, Bankier.pl, TheStreet.com, Leaderonomics, GPW Media, Channel NewsAsia's Business Tonight and Cents & Sensibilities. In addition, Mr. Perez has been featured on Sohu, News.Sina.com, Caijing, ETF88.com, 360doc, AH Radio, CBNweek.com, Finance.Sina.com, The Korea Times, The Korea Herald, The Star, The Malaysian Insider, BMF 89.9, iMoney Hong Kong, Caixin, Futures Daily, Xinhua, CBN Newswire, Chinese Financial News, International Finance News, Finance.QQ.com, Bloomberg Hedge Fund Brief, The Wall Street Journal, The New York Times, Dallas Morning News, Valor Econômico, FIXGlobal Trading, TODAY Online, Oriental Daily News and Business Times.

Mr. Perez has addressed thousands of top executives around the world through keynote speeches and corporate training programs on quantum computing, artificial intelligence, deep learning, cybersecurity and financial trading. He has presented in Beijing, Boston, Chicago, Hong Kong, Kiev, Kuala Lumpur, Lima, London, Miami, Naples, New York, Santiago, Sao Paulo, Seoul, Shanghai, Singapore, Stockholm, Taipei and Warsaw, among other global capitals. He contributes to The New York Times and China's Sina Finance.

Mr. Perez was a vice president at Citigroup, a senior consultant at IBM, and a strategy consultant at McKinsey & Co. in New York City. He managed Operations and Technology for Peruval Finance. Mr. Perez has an undergraduate degree in Systems Engineering from Universidad Nacional de Ingeniería, Lima, Peru (1994), a Master of Administration from Universidad ESAN, Lima, Peru (1997) and an MBA from Columbia Business School, New York, majoring in Finance and Management (2002). He belongs to the Beta Gamma Sigma honor society. Mr. Perez is an accomplished salsa and hustle dancer and resides in the New York City area with wife Olga, son Edgar Felipe and daughters Svetlana Sofia and Mary Olympia.