Scudder Solar Energy Systems, a local residential and commercial solar power contractor, was named as the community's best solar installer in Monterey County Weekly's Best of 2018 Reader's Poll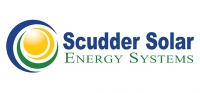 FOR IMMEDIATE RELEASE / PRURGENT


MARINA, CA, March 29th, 2018 - Scudder Solar Energy Systems, headquartered out of Marina, CA has been voted best solar installer in Monterey County Weekly's Best of 2018 Annual Reader's Poll, and continues to establish itself as the go-to, full-service solar company in the local area. The Weekly is Monterey County's most widely read newspaper with a circulation topping over 90,000 readers each week. Being named as the best in this poll is a particularly sweet achievement as it's the public voting, not a panel of professional judges. The readers nominate local companies in a variety of categories each year, vote for the finalists and then choose the actual winners. It's the community's way of patting businesses they love on the back and saying keep up the good work!

"I just want to tell the people in this community that I appreciate the acknowledgement that we are serving our community with our passion for Solar" said Mark Jacobi, general manager and partner along with founder, Pete Scudder. "We love what we do here, and we are looking very much forward to the future and helping this area by bringing solar to every home and business interested in making the switch."

With an estimated 1700 or more solar contractors throughout the state of California, Scudder Solar remains focused on its reputation for quality work, customer service and totally customized system design. Named as one of the top solar contractors in the U.S. by Solar Power World Magazine as well as a top residential installer by the Silicon Valley Business Journal in recent years, Scudder Solar has been building a brighter future on the Central Coast since 2007. An elite combo solar dealer for SunPower ® Solar, Scudder has nurtured long-lasting relationships all over the Peninsula and has installed solar on everything from large commercial retail spaces to wineries, schools, manufacturing plants, residential homes, farms and even carports.


# # #


About Scudder Solar Energy Systems
Scudder Solar Energy Systems, based in Marina, CA, is one of the leading solar energy contractors serving Monterey, Santa Cruz and San Benito counties. A licensed California electrical/solar contractor as well as a licensed roofing contractor, each Scudder project is designed, engineered and installed with the utmost care and skill by dedicated solar professionals who strive to meet individual needs and aesthetics on every project they complete. Scudder Solar, one of the few select combo elite solar dealers for SunPower ® out of Silicon Valley, Scudder offers sustainable and cost-effective solar solutions no matter how big or small the project for homes or businesses as well as a wide variety of solar financing options. The name Scudder has been synonymous with quality craftsmanship and superior service for 35 years. For more information, please visit scuddersolar.com or call 831-384-3900.