FlipBuilder brings the next-gen customer attractor Flip PDF catalog maker to the online business owners. This software can help to make the catalog interactive and easy to shop.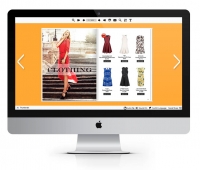 FOR IMMEDIATE RELEASE / PRURGENT


Hong Kong, HK -- Flip PDF is robust mid-market and high-market catalog maker (http://www.flipbuilder.com/free-catalog-maker-software.html)software that enables companies to correctly recognize revenue and expenses in online marketing of their product so that Return of Investment (ROI) gets guaranteed.

What is a Catalog? Searching for the latest line of jeans from a specific brand, or a brochure of services from a grocery provider — is a catalog, and Flip PDF offers out of the box ways to market a product with the help of graphical images with the product description, so that target customers can easily view it through their smart phones.
Many people have lucratively used Flip PDF for it is being a very suitable option, as it well-understand the needs for every kind of businesses to create striking digital product catalogs, with high-quality images, clickable buttons, animated videos, that will spellbind customers to purchase the target product.

With an affordable price of just $99/year, this user-friendly catalog maker software allows product marketing seekers to form a cohesive connection with the customers with the help of eye-catching layout and its ability to embed videos, audio, to get guaranteed customers. The best thing about Flip PDF is that customers need not require downloading anything; they can see a catalog with just one click. Though it is very easy to use, a 2-minute video guide is available to get started. Despite it, any more assistance can also be achieved with the help of technical support.
It will also keep an eye on the performance through Google analytics, so that catalog can be used via removable drives. Its responsive feature will allow customers to view the product details on smart phones and other related devices.

So, forget those heavy PDF files, and use this innovative and interactive software, to attract new customers without batting an eye.

About Flip PDF:

Flip PDF is part of the FlipBuilder and has dozens of powerful features, such as - Interactive reading, Responsive, Traffic analytic, Touch support, Cloud publishing, Animated photo gallery, Multi-language assistance, Rich media options, and Social share, this software is rated as one of the best catalog makers online.