We are thrilled to announce the release of "Solving the Climate Crisis: A Community Guide to Solving the Biggest Problem On the Planet" by Palmer Owyoung. This groundbreaking book offers a comprehensive and empowering roadmap for individuals and communities to combat and overcome the pressing issue of climate change.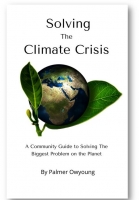 August 21, 2023
FOR IMMEDIATE RELEASE / PRURGENT

2023 has been a summer of records. July was the hottest month in human history. In the first week of August the global average sea surface temperature hit 20.96 C breaking the record from 2016. Then there are there are the heart-breaking fires on Maui the deadliest in 100 years.

In recent years, the climate crisis has reached a critical point, necessitating urgent action at every level of society. "Solving the Climate Crisis" provides readers with actionable steps and practical guidance to address this global challenge from the grassroots level, empowering communities to become drivers of lasting change.

Drawing upon extensive research and expert insights, Palmer Owyoung presents a comprehensive analysis of the current climate crisis, its causes, and its wide-ranging impacts on our environment, economy, and society. With accessible language and engaging storytelling, the book moves beyond mere knowledge, equipping readers with the tools and knowledge needed to take action and implement sustainable solutions in their daily lives.

Key features of "Solving the Climate Crisis" include:

1. A Holistic Approach: The book examines climate change from various perspectives, fostering a well-rounded understanding of its complexities and encouraging multi-faceted approaches towards solutions.

2. Community Engagement: Proven techniques for mobilizing and organizing communities are shared, enabling readers to amplify their impact and create influential networks dedicated to climate action.

3. Tangible Solutions: From small-scale changes to larger-scale initiatives, the book offers practical strategies and solutions that allow individuals and communities to contribute to a sustainable future without feeling overwhelmed.

4. Case Studies: Real-world case studies inspire and demonstrate how ordinary people, in collaboration with local governments, NGOs, and industries, have initiated remarkable climate initiatives globally.

5. Empowerment: The book's narrative fosters a sense of empowerment, dispelling apathy and expressing that positive change is possible when we join together to address the climate crisis.

"Ultimately, climate change is not just an environmental, social, political, or economic issue, it is a moral one. I hope this book will inspire you and give you the tools and resources to take meaningful action. It is imperative for our planet, for our future, for our children, and for every living creature that doesn't have a voice, that we act now," says Palmer Owyoung. "With this book, I aim to equip readers with knowledge, practical tools, and an innate sense of hope, helping them take the first steps towards a brighter, more sustainable future."

As we stand at a critical juncture in our planet's history, "Solving the Climate Crisis" emerges as a beacon of hope and guidance. By empowering individuals and communities with tangible solutions, this book inspires inclusive action, providing a blueprint for cooperation and change.

"Solving the Climate Crisis: A Community Guide to Solving the Biggest Problem On the Planet" is now available in both print and digital formats at all major online bookstores.
Ebook $9.99- ISBN 9798223679684
Paperback $34.99- ISBN 9798223025375
647 pages

For a review copy, to schedule an interview or further information, please visit www.PalmerOwyoung.me or email powriter2023
gmail.com

About the Author:
Palmer Owyoung is a local climate activist, and has written the column Sustainably Yours for the Phuket News for four years. He is dedicated to creating a greener future for all. Through this book, their mission is to empower individuals and communities towards a sustainable and resilient future. He splits his time between Oakland, California and Phuket, Thailand.