Author and Director, Barbara Fox, releases her newest book Young for a Very Long Time, a captivating book redefining aging and vitality.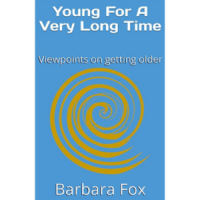 FOR IMMEDIATE RELEASE / PRURGENT


Hollywood, FL –7/18/23– The book offers an insightful and humorous exploration of various topics, providing practical advice, personal anecdotes, and thought-provoking discussions. From witty responses to inquiries about one's age (I'm 102, don't I look good for my age?) and pre-retirement life to the pros and cons of retirement homes, "Young for a Very Long Time" covers it all. The author delves into the realms of senior and internet dating, making new friends, the significance of exercise, and the art of contentment while living alone.

Readers are introduced to real individuals who continue to thrive in their careers well into their golden years. Additionally, the book features excerpts from the plays "Snowbirds" and "Duo," showcasing fictional characters who defy societal expectations and embrace a life of vitality and passion.

Some of the articles included are "Complaints from a Crabby (formerly nice) Person," "Still in the Game," "Computers and Me," and "Simplify Your Life." Readers will also encounter a collection of mini views, quotes, advice, and sayings, providing moments of reflection and inspiration and humor. "9 p.m is the new midnight," "wrinkles are just upside-down smiles"

Young for a Very Long Time combines lightheartedness with practical wisdom, delivering an enjoyable reading experience that challenges age-related stereotypes. With a blend of humor and informative content, the book is a reminder that growing older can be an enriching journey.

When asked what inspired her to write the book, Barbara answered, "After all, what is the alternative? Life is meant to be lived regardless of age. Young for a Very Long Time highlights the joy and vitality that can be found in every chapter of our lives."

Published in July 2023, Young for a Very Long Time is available in both paperback and as an eBook at Amazon, Barnes and Noble and other online bookstores and at the author's website, booksbybarbara.com For more information about the author and the book, please visit the website or email: barbarafox.author
gmail.com, Contact number: +1 754 777 9833.

About the Author:
Author Barbara Fox, producer/director of Mystery On The Menu, an interactive theater company she founded in 1986, author of several mystery novels including the Murder in the Inn series, Murder is Served, Mystery is Served, children's, and non-fiction books, She lives in Hollywood Fl.

Media Contact Information:
Reach out to Barbara Fox directly:
+1 754 777 9833
booksbybarbara.com
barbarafox.author
gmail.com

###

Editor's Note: book cover and author photo are attached.