Blazing fast presentation design, powered by AI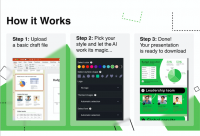 FOR IMMEDIATE RELEASE / PRURGENT

Everypixel introduces Wonderslide, a groundbreaking AI-powered tool that effortlessly creates stunning presentations from basic drafts at lightning speed. The software will be released to the public in July 2023.

"This project is a result of our company's efforts in the field of creative technologies. The field we've been always focused on, that we support and invest in," - says Dmitry Shironosov, founder of Everypixel.

Wonderslide enables millions of PowerPoint and Google Slide users to automatically design presentations with just a few clicks, making it ideal for those who need last-minute slides before a deadline.

The product is powered by a system of neural networks that can analyze and understand different types of content, including text, images, icons, color schemes, and slide structures. To get started, users need a basic .pptx draft, which they upload to a service. Trained on thousands of presentations, algorithms analyze the draft and design slides according to the theme, color, and font, selected by the user.

"Traditional software like PowerPoint or Google Slides can be thought of as a giant box of tools tailored for experienced presentation design professionals. They are versatile and customizable, but require a lot of manual effort and skills.

We set out to build a product that would revolutionize the presentation design process and automate the entire process for people who are not PowerPoint wizards but need to create slides on a regular basis — from sales managers, HR managers, and marketers to teachers, professors, and students. With Wonderslide, they can focus on the core of their presentation and other important tasks," — says Renat Abyasov, CEO of Wonderslide.

Here's what makes Wonderslide unique:

Security. Wonderslide is independent of external neural networks and can be used as an enterprise boxed product for secure work with confidential data.
Compatibility. Wonderslide is compatible with PowerPoint and Google Slides and supports native export to .pptx.
Simplicity. Wonderslide allows users to create presentation design in a matter of minutes with automated slide layout and one-click redesign.

Since its beta launch, users have created more than 17,000 presentations using Wonderslide. Today, the team is actively working on training algorithms to create impressive graphs and charts from users' data and adding collaboration features to make it easier for teams to work together in one place.

The product is scheduled to be released on the Product Hunt online platform on July 18, 2023.

About Everypixel
Everypixel is an international technology company that builds products for creators – photographers, videographers, designers, marketers and developers. The company's portfolio includes a global image search engine and various AI algorithms to create, modify and moderate digital content.