GSCPA welcomes Savannah CPA as new Board Chair.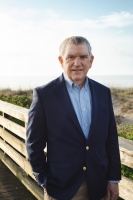 FOR IMMEDIATE RELEASE / PRURGENT

Carlton Hodges, CPA, partner at Caines, Hodges & Company, PC of Savannah, Georgia has been elected chair of The Georgia Society of Certified Public Accountants (GSCPA) Board of Directors for the 2023-24 fiscal year. Mr. Hodges was selected at the Society's annual business meeting in Girdwood, Alaska.

"Carlton's dedication to his profession, community and clients is commendable," said GSCPA CEO Boyd Search. "His ability to adapt to the changes within the profession and find joy within new challenges will keep GSCPA future focused in 2023."

Hodges has been an active and involved member of GSCPA for 42 years. He previously has served on the GSCPA Board of Directors and has volunteered his time on numerous committees and task forces.

From the GSCPA leadership council at the state level to interacting at the national level through the AICPA, Hodges has his eyes on the issues ahead. He's particularly looking forward to meeting his GSCPA colleagues around the state. "I have found them to be a great group of people," he says. "It's funny because people think of CPAs as a boring group, but ever since my first day in public accounting, I have found the opposite to be true. This is an organization of funny, thoughtful, great people." He's also looking forward to working with GSCPA staff, who he calls an incredible group working to protect the brand. "Protecting the CPA brand is and will continue to be the focus," he says.

Hodges says the friendships, sense of community, networking and information sharing have shaped his life, and the relationships he has developed over the years extend well beyond that professional courtesy. "Some of my best – if not the best – friends have been developed inside the Society," he reflects. "The value of that is priceless."

Mr. Hodges is the senior partner of Caines, Hodges & Company, PC. providing accounting, auditing, and tax services. Mr. Hodges is proud to call Savannah, Georgia home.

About GSCPA:
GSCPA is the premier professional organization for CPAs in the state of Georgia. With almost 14,000 members throughout the state, the purpose of GSCPA is to achieve excellence by providing superior advocacy, leadership, service, lifelong learning, and personal and professional development opportunities. For more information, visit www.gscpa.org.