Emalina Gallegos is so excited to be competing with the best of the best at Nationals!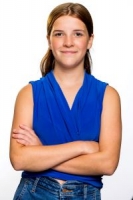 FOR IMMEDIATE RELEASE / PRURGENT

Emalina Gallegos, 12, hails from Hawaii, and started with Society Performers in March 2023. She has since trained, showcased, attended workshops, and continues to excel...and it shows!

Emalina has traveled to many places and loves to try new things. She plays hard, but works ever harder.

Well done, Emalina. Keep it up. GOOD LUCK IN HOLLYWOOD!