In a society that stereotypically taints the image of black boys and men, it is important that black boys be equipped with family-driven support to enable them to understand their value and importance.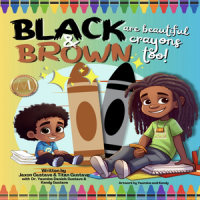 FOR IMMEDIATE RELEASE / PRURGENT


As we embark of the upcoming celebration of Juneteenth, I would like to introduce my recently published children's book for black and brown youth, to inspire them and to teach them about self-love. The book, "Black & Brown are beautiful crayons too!" allows children to learn about and to love themselves, and it teaches them about dealing with conflict; much like black men experience in our every day society.  My name is Dr. Yasmine Daniels Gustave and I am a PhD chemist, bestselling author of my first children's book, "Building my Self-eSTEAM in Science," and mom. As a mother of 2 black baby boys, finding ways to teach them to love their blackness has been challenging. That's why my husband and I wrote our book, "Black & Brown are beautiful crayons too!" It would be an honor to feature this wonderful book to inspire black and brown children, especially as we approach the Juneteenth celebration.

Black & Brown are beautiful crayons too! is a story about two brothers, Jaxon and Titan, who learn about the beauty and magnificence of the colors black and brown. They also learn that black and brown crayons are just as beautiful and important as all other crayon colors, even when other kids at school make fun of them for believing so. They are also given a lesson about self-love, by being reminded of the many beautiful, black and brown things all around them, including their hair and eyes, and especially their skin.

The authors, the Gustave family, are a humble family of authors and community advocates who are passionate about representing and supporting strong family values for the black and brown community. Co-authors Yasmine and Kendy, parents of Jaxon and Titan, are thrilled to share this inspiring message with their sons and with other parents and children whom they hope to inspire.