North Texas cancer foundation, launched in 2017, announces line-up and guest speaker for its annual gala.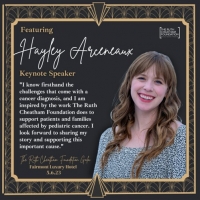 FOR IMMEDIATE RELEASE / PRURGENT

Dallas, TX – The Ruth Cheatham Foundation (TRCF), a nonprofit focused on supporting adolescents and young adults through all phases of cancer treatment, is pleased to announce that its' 2023 gala will be headlined by SpaceX's Inspiraton4 Chief Medical Officer and the youngest American to ever orbit the earth, Hayley Arceneaux.

Hayley Arceneaux is a pediatric cancer survivor and a role model for many young patients affected by this disease. In a journey that's come full circle, along with Hayley's never quit spirit, she proved that the sky was not the limit and served as an ambassador and Chief Medical Officer aboard SpaceX Inspiration4, the first all-civilian mission to orbit. Hayley also made history in other ways, becoming the first person with a prosthesis, the first pediatric cancer survivor, and the youngest American to ever orbit the earth! As a survivor of bone cancer and now a Physician Assistant at St. Jude, Hayley has dedicated her life to raising awareness and funds for cancer research and supporting families affected by pediatric cancer.

"I am extremely honored and thrilled to help this cause, especially as it is so personal to me as a cancer survivor. At St. Jude I see bravery and resilience in my young oncology patients I work with every day and I know that, like me, they can do anything they set their mind to, given the opportunity," said Hayley Arceneaux. "I know firsthand the challenges that come with a cancer diagnosis, and I am inspired by the work The Ruth Cheatham Foundation does to support patients and families affected by pediatric cancer. I look forward to sharing my story and supporting this important cause."

To see more about Hayley in advance of the Gala, please check out these videos: https://youtu.be/eMzfBbArKk or https://youtu.be/4VmE3FSqIh0

"We are extremely honored and humbled that Ms. Arceneaux will join us in celebrating and inspiring our teen cancer survivors! You have someone that has literally shown the sky is not the limit and that you can move past your diagnosis and on with your life" -Lindsay Whittemore, President and Co-Founder.

"There is no better example for our scholars than someone who was part of a massive stride in modern-day humanity, all while achieving it in the face of cancer," said Douglas Whittemore, Treasurer, and Co-Founder. "Our foundation's (TRCF) goal is to remove some of the challenges that teen cancer patients face and help pave a smoother path to education. That is what is exciting about our TRCF gala, the funds raised go directly toward funding our educational programs and our supporters participate directly in that impact."

The Ruth Cheatham Foundation 2023 Gala will be held at the Fairmont Luxury Hotel in Dallas, TX on Saturday, May 6, 2023, at 6:00 PM. The event will include a silent and live auction, raffle, casino games, dinner and drinks, music, celebrity speakers, and much more.

Corporate sponsorships, group packages, VIP and individual tickets are available for purchase at http://TRCF2023.givesmart.com or by going to the TRCF website at www.ruthcheathamfoundation.org Please visit the website to learn more about the organization's mission. Follow TRCF on Facebook facebook.com/RuthCheathamFoundation or Instagram instagram.com/trcf_org to stay up to date on all things TRCF.