Tiny Skills is the world's first and only encyclopedia of self help, self improvement and career advice. It gives you 5000+ bits of proven wisdom on 250+ essential work & personal skills.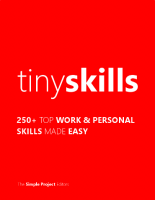 FOR IMMEDIATE RELEASE / PRURGENT

The Simple Project has created Tiny Skills, a, never-before, all-in-one compilation of timely advice for every modern professional that gives them instant advice on any work or personal problems they are facing.
Skills Matter. The book, targeting all modern professionals today, helps them successfully deal with the challenges of modern life - at work and in personal life. It is available on Amazon, Gumroad as well The Success Manual website: https://thesuccessmanual.in/250-tiny-skills-for-you

Simply put, we all need to know a lot of things to thrive in this challenging modern world. In order to be successful in a job, you need to have communication skills, time management skills, and teamwork and leadership skills. If you're unable to work as a team, communicate with your coworkers, and properly manage your tasks, your degree won't necessarily matter. Employers want employees who can think and solve problems. Some of the top skills employers look for include: Critical thinking and problem solving, Teamwork and collaboration, Professionalism and strong work ethic, Oral and written communications skills, and Leadership skills.

Imagine the number of skills you would need to succeed – in terms of books, courses and periodicals. Imagine the cost. And time. Not to to mention that most self improvement books have thin content - they can easily be done in 1-3 pages.

What if you had a handy all-in-one,easy-to-follow and affordable guide that contains all the wisdom you need to know to succeed in the workplace and in life?

Presenting Tiny Skills, which gives you to-the-point 290 guides arranged acroos 13 important skills - communication skills, writing skills, thinking skills, business skills, entrepreneurship skills, career management skills, self help skills, self improvement skills, and other highly useful skills that will help you navigate the challenges of modern life.

Tiny skills is your ideal all-situation pocket mentor, which shows you:

- How to transform your resume from ordinary to remarkable
- How to 'do what you love' and still be able to build a career
- The 25 most useful productivity methods
- How to be charming, likable, and interesting
- How To talk to anyone, anywhere, anytime...even if you are not a 'natural'
- How to be happy, confident & successful
- How to follow through on anything you start
- How to build powerful connections

Reviews for Tiny Skills are in:

"Professionals' Guide To The Top Rung."
- The Financial Express

"Interested In A Successful Career?"
- Business line

"It's the most useful resource I've seen in years—the table of contents alone is worth the price of the book."
- Joy B,. Buyer

Vishal Singh from The Simple Project says, "Since 2003, we made it a mission to create an encyclopedia of self - help, self - improvement and career advice for every modern professional. We hope Tiny Skills is used by every modern professional to get instant advice on any skill they need to succeed. The skills gap is real."


If you want to save time or money (or both!), visit https://thesuccessmanual.in/250-tiny-skills-for-you today.

Tiny Skills is available for purchase on:
Amazon https://www.amazon.com/dp/B075J95785
Gumroad https://gumroad.com/l/zWGDT

URL: https://thesuccessmanual.in/250-tiny-skills-for-you
Book Cover URL: https://www.thesuccessmanual.in/images/tinyskills30.jpg

About The Simple Project
The Simple Project creates simple, all-in-one products and services, saving users time and money. We created the world's first & only encyclopedia of Self help, self improvement and career management advice. We also created Fatskills, a comprehensive online study tool containing 20,000+ free quizzes and study guides (& growing). We created Foodglad, a one-stop destination for calorie counts of 4000+ foods and 100+ food occasions - fast foods etc, calorie burn calculators, diet guides, and a recipe & cuisine database of 35000+ dishes. We also made Truho, an all-in-one online presence tool.