Wrong! COP27 did little to advance efforts to stay below 1.5C, beyond what had been agreed at COP26 in Glasgow last year.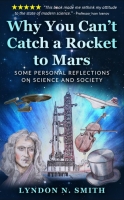 FOR IMMEDIATE RELEASE / PRURGENT

Intro – Lyndon N. Smith was born and grew up in Stroud, but now lives on the Somerset Levels and works as a professor at Bristol. A few years ago, his garden was flooded and this got him thinking about Global Warming. This culminated in a book: 'Why You Can't Catch a Rocket to Mars: Some Personal Reflections on Science and Society', where he discusses the threats we face and possible solutions. He devotes a chapter to Climate Change and considers that while we agonise over complex solutions, we may be missing a simple one that would be easy to implement.

Author Quotation – We are always being told we must reduce CO2 emissions. But recently we were instructed to put the clocks back by an hour. People are generally more active in the evening than in the early mornings, and data indicate that having the clocks forward an hour results in a reduction in electricity consumption due to reduced need for artificial light in the evenings. To be more specific, Cambridge University research shows that an extra hour of daily sunlight in winter could save £485 million each year, as people would use less electricity and heating. This is equivalent to eliminating the carbon emissions of 70,000 people. This overall reduction in CO2 emissions is estimated to represent around 450,000 tonnes across the UK each year.

Mini Author Bio – In between reflecting on various threats and how we might tackle them, Lyndon has a strong interest in science and technology, and a particular fascination with developments in physics and engineering that can have potentially revolutionary effects on the way we live. He feels that scientific and technological developments of recent decades have been less dramatic than was expected, say, seventy years ago and that an investigation into why this is the case and what we can do about it is well overdue. His intention is to make you wonder why we don't hear more about how modern technologies can revolutionise our lives. He believes we need to spend more time and effort on looking to the future rather than agonising over the past. And he uses discussion of people and events from the past, as well as various predictions of the possible future, to throw light on the situation for science and technology, and what developments we might expect going forward.

Book Information – All lovers of science and technology, this richly illustrated book is for you, no matter what age and what level of understanding of physics you have. The book combines humour and scientific insight to explain in a unique, provocative, and accessible way, the past and present approaches of scientific endeavour and invites you to a discussion about the fascinating technological developments that we may expect to see in the future. This is popular science with a twist – both entertaining and educational. You will be taken on a journey touching on more conventional topics such as transport, robotics and manufacturing to the more exciting ones such as artificial intelligence, nanotechnology and rocketry. The author discusses the effects we may expect such advanced technologies to have on our lives, including the prospects for extending life and achieving interstellar travel, with all their astonishing implications. Physics students, academics or laymen, be ready to be entertained!