Boxes will contain a newly released horror title with an exclusive cover and theme-related products.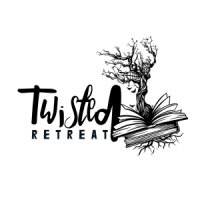 FOR IMMEDIATE RELEASE / PRURGENT

LOS ANGELES, CA – August 23, 2022 – Melanie McKnight of Unplugged Book Box is launching her next passion project this Fall with Twisted Retreat, a monthly subscription box of horror and oddities for the twisted soul. Each month will be a retreat into the world of all things that go bump in the night. Boxes will contain a newly released horror title with an exclusive cover and theme-related products. "For those with a love for all things dark and wicked, this is the box you've been waiting for," says McKnight.

Twisted Retreat's October box debut will feature one of Apple's Most Anticipated Books, River of Ashes by Alexandrea Weis and Lucas Astor (Vesuvian, August 2022). An idyllic Louisiana river town harbors a dark secret. The only son of a powerful family, born into wealth and privilege, is a psychopath whose madness turns to murder in this Adult series filled with mystery, a rising body count, and a chilling pact between unlikely friends. American Psycho with a Southern Gothic twist, Rue Morgue says, "Despite its ghosts and hauntings, this evocative tale presents an all-too-real terror that gets under your skin—and stays."

Unplugged Book Box is a monthly book subscription box that focuses on self-care. Started in 2018 by psychology and English major, Melanie McKnight, Unplugged was built out of love for mental health and reading. McKnight says, "There is no better way to unplug and recharge than with a good book and some self-care goodies." Each box comes with novelty items inspired by books and delightful self-care products that support women and minority-owned small businesses.

Unplugged's horror-themed October box features Throw Me to the Wolves by Lindy Ryan and Christopher Brooks (Black Spot, May 2022) as the Adult book of the month. A cursed young woman returns home to help solve her family's murder while partnering with a rookie cop who harbors a dark secret in this gritty occult thriller that Booklist promises will, "keep readers glued to their seats," and Publishers Weekly says, "sizzles with suspense and eroticism."

Unplugged was voted USA Today's #1 book subscription box in 2021 and 2022, featured in Buzzfeed, HuffPost, Oprah Magazine, and named in the top 10 subscription boxes 2022 by OprahDaily.

The first Twisted Retreat boxes will ship in October. Sign up for their newsletter at https://twistedretreat.com for all the gory details.


###
Assets folder - https://tinyurl.com/3uzn6r4a

https://VesuvianMedia.com

Melanie McKnight is the owner and creator of Unplugged Book Box and Twisted Retreat. She graduated in 2011 from the University of Rhode Island with degrees in Psychology and English and a minor in Nonviolence and Peace Studies with a Level 1 certification to teach and train. When she's not working on her small businesses, she can be found obsessing over psychological horrors, hiking creepy trails in New England, working on her writing, and hanging out with her dog, Bandit. https://UnpluggedBookBox.com

Alexandrea Weis, RN-CS, PhD, is an award-winning author, advanced practice registered nurse, wildlife rehabber, and historian who was born and raised in the French Quarter. She has taught at major universities and worked with victims of sexual assault, abuse, and mental illness in a clinical setting at many New Orleans area hospitals. She is a member of the Horror Writers Association and International Thriller Writers Organization. https://AlexandreaWeis.com -- https://StBenedictSeries.com

Lucas Astor is an award-winning author and poet with a penchant for telling stories that delve into the dark side of the human psyche. He likes to explore the evil that exists, not just in the world, but next door behind a smiling face. Astor currently lives outside of Nashville, TN. https://LucasAstor.com

The River of Ashes original cover art is by Mister Sam Shearon–who has provided cover illustrations for the Angel series, 30 Days of Night, The X-Files, and the fully illustrated H.P. Lovecraft's The Call of Cthulhu, Oscar Wilde's The Picture of Dorian Gray, and Clive Barker's Hellraiser and Books of Blood. https://MisterSamShearon.com

Lindy Ryan, PhD, is an award-winning author/editor, short film director, and professor at Rutgers University. Prior to her career in academia, Ryan was the co-founder of Radiant Advisors, where she led the company's data enablement practice for clients that included 21st Century Fox Films, Warner Bros., and Disney. Ryan previously served on the Board of Directors for IBPA and is currently co-chair of the Horror Writers Association Publishers Council. She is a contributor at Rue Morgue Magazine and was named a Publishers Weekly's Star Watch Honoree in 2020. She has published numerous academic texts as well as romance novels under the name Lindy Miller, which have been adapted for screen. Her debut horror novel, Bless Your Heart, is forthcoming from Minotaur Books. https://LindyMillerRyan.com

Christopher Brooks juggles writing and editing with a healthy dose of manual labor around the Pacific Northwest, where he lives with his wife and children.