Rocky Mountain Colorado author Crissi McDonald releases her first fiction novel, a magical killer whale story set in the Pacific Northwest. "North to Home" is your next summer read!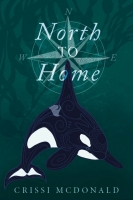 FOR IMMEDIATE RELEASE / PRURGENT

When Nolee Burnett moves from Texas to the San Juan Islands, her life changes. So does her reality.

Middle-aged Texan Nolee Burnett likes her solitary life by the sea just fine. Divorced, she shakes off the twenty-year-old baggage of a bad marriage to create a life for herself on an island in the San Juan's of Washington state. An adventurer at heart, she's soon interested in Keet Noland, her neighbor and the owner of a whale-watching company. A giant killer whale who frequents the waters by her cabin also catches her interest. All three of their lives begin to transform in unexpected ways the more they become intertwined.

Reviewers Rave


"If you can appreciate a sweet tale of romance that isn't afraid of plunging into mystical waters, North to Home is the read you've been waiting for."


"I shirked all my adult responsibilities because I couldn't put this book down!"


"Weaving together grounded and relatable characters with a magical twist, Crissi McDonald has made a big splash with her first foray into the world of fiction."

Crissi McDonald, the author of two popular non-fiction horse books about the human/equine bond has sold thousands of copies and consistently garners five-star reviews. A writer since childhood, North to Home is Crissi's first published work of fiction.

Rated 4.8/5 on Amazon, North to Home is available now on Barnes & Noble, Bookshop.org, and more of your favorite book retailers. Ask for it at your local bookstore!