Pawsitively Fresh!: Pet-themed air fresheners integrate refreshing scents with adorably clever designs to provide a little "inspiration while you drive."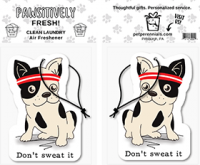 FOR IMMEDIATE RELEASE / PRURGENT

Pittsburgh, PA - Pet Perennials, a Direct to Consumer brand and pet product company that offers unique life-cycle gifts, has released a new line of pet-centric air fresheners: Pawsitively Fresh! Whether someone has a pet or not, a cute animal puts a smile on anyone's face; add a clever expression and - voila! - time behind the wheel is a little less stressful.

American families spend an average of one hour per day on the road. At first it doesn't seem like a lot, but when you consider the amount of time we spend awake per day, driving accounts for at least 6% of our waking hours. In addition to that, drivers make an average of 2.5 trips in their car and drive an estimated 25 miles daily... and what do most people do while driving? If you said, "spend time thinking," you are right! We think about a countless number of things which may or may not get resolved by the end of a given trip.

The Pawsitively Fresh! line of car air fresheners fills your vehicle with options to delight the senses, such as clean laundry, wild strawberries and fresh rain, while including adorable animal designs accompanied by clever expressions to deliver a little "inspiration while you drive."

Consumers can buy individual air fresheners at PetPerennials.com; they'll want to keep checking back for the latest new scents and designs.

Wholesale orders of Pawsitively Fresh! are available as well. Wholesale clients may register for an account by submitting an online form at Pet Perennials/Register.

About Pet Perennials

Emerging from their own experiences with love and loss, Co-Founders, Remy Bibaud and Lori Davidson, set out to create a personalized way to bring comfort to families going through similar experiences by offering unique gifts that bring comfort to a grieving pet lover while honoring the memory of a cherished companion. 

It all began with their custom memorial flower product, aptly named the "Pet Perennials Kit." The DIY gardening kit generates new life from the love of a pet through the sowing and growing of perennial wildflower seed wafers. Their story and gift offerings bloomed from there. 

Recognizing that pets are a primary source of happiness, Pet Perennials expanded their gift options to help celebrate the many milestones' people share with their pets.

Their Direct-to-Consumer ordering enables consumers and businesses to send thoughtful, personalized gift packages directly to the people that matter the most to them for various occasions. Registered business accounts benefit from all inclusive pricing and discounts from day one.

"We're always looking for unique products to help pets and people celebrate together," said Davidson. "Finding a fun way to include pet milestone celebrations into a family's routine while enriching the relationship between buyer and recipient is truly a win-win for us."

For more information about Pet Perennials, Pawsitively Fresh!, and/or to receive product images or a complimentary samples, please contact the company at (855) 573-3887 or sales
petperennials.com.