When Charlotte Franklin Hears Windchimes, Strange Things Start to Happen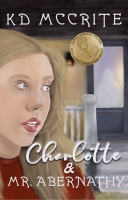 FOR IMMEDIATE RELEASE / PRURGENT


Motina Books Publishing is thrilled to announce the release of Charlotte & Mr. Abernathy by award-winning author, KD McCrite. Ms. McCrite is the recipient of the 2021 the Laura Ingalls Wilder Children's Literature Award, specifically for her series, The Confessions of April Grace.

Her latest work tells the story of Charlotte Franklin and her family. Charlotte is a normal girl with normal problems; her parents are separated, she moved far away from her dad and friends, and, oh yeah, she can see dead people. That last one might not be that normal.
"Charlotte really is just like other twelve-year-old girls," states McCrite. "She misses her dad and her friends like crazy, and she finds herself needing to take care of her mom. Then she meets Mr. Abernathy, and things get interesting."

Both boys and girls will enjoy the adventures of Charlotte and her new friends, as they try to solve the mystery of Mr. Abernathy's death.
The themes that run throughout this book include family, understanding, and friendship. A free Activity Guide is available for students and teachers to help with reading comprehension and to encourage a love of reading. This book has a Lexile score of 570L, and the Activity Guide can be downloaded from www.MotinaBooks.com.

McCrite is happy to conduct school visits, either in-person or virtually. Her next book, Messy Malodorous Malarkey, features the popular and sassy April Grace Reilly, and will be available, in June 2022.

About the Author
KD McCrite writes about the people we encounter daily, those ordinary folks who make us laugh and cry while they keep the wheels of life turning. It's easy for the reader to identify with the everyday characters in KD's stories. Her novel, In Front of God and Everybody, was in the top 12 finalists for the 2013-14 Mark Twain Readers Award.