Motina Books, LLC Releases a Domestic Thriller that Focuses on Religious Extremism and Mental Illness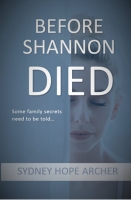 FOR IMMEDIATE RELEASE / PRURGENT

Motina Books Publishing is releasing Before Shannon Died by author Sydney Hope Archer on February 28, 2022. This domestic thriller tells the story of what happened to Shannon Grady before she was found dead in her apartment, apparently from suicide.

Archer beautifully tells the heartbreaking story of Shannon, labeled the "black sheep" of the family, who only wanted to fit in with her brother and sisters and be loved. Even though the Grady family is the richest and most powerful in their small town, that doesn't mean they are the kindest.

"It's true that the impetus to write Before Shannon Died came from some personal experiences in which harsh religious beliefs were taken too far and also from a friend's experience of abuse within their family," says Archer.

One of these extremes includes not recognizing Shannon's mental illness as an actual illness that needs to be treated. This is definitely a problem in our country that needs to be addressed; mental health is just as important as physical health.

About the Author
Sydney Hope Archer is a devoted lover of the written word and spends her days spinning stories. She lives in the South with her husband, two dogs, and a spoiled cat.