Pistole is a best-selling author, blogger, coach and motivational speaker who describes herself as a "joy-fanatic". Her book provides readers with a quick inspirational read every morning and helps them discover 'moments of joy' each day.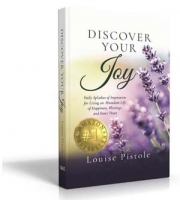 FOR IMMEDIATE RELEASE / PRURGENT

Betty White was a media icon, beloved by both the public and media insiders. Her death resulted in a flood of emotional responses from both groups. Betty is remembered for many things, above all for her joy and kindness. Bestselling author Louise Pistole recently issued a statement that addressed acts of kindness, the need to sprinkle it everywhere, and the legacy of Betty White's kindness:

"Betty White led the way with kindness," writes Stefanie Pettit in an opinion column for The Spokesman – Review.

"The article goes on to say, Betty White's 'death reminded me to strive to bring sunlight, not clouds, whenever possible.'

"We want to do it like Betty was doing it – giving, not taking, taking care of others (in her case, especially animals who can't speak for themselves) and spreading joy wherever she went. As long as she was out there doing that, she was a beacon lighting the way."

"One of Pettit's closing remarks says, 'There was always a sweetness about her, an optimism, a gentle self-depreciation and, I think, kindness. Always kindness.'

"Can kindness make the world a better place?" Pistole asked. "If Betty White's life showed us anything at all, the answer to this question is a resounding yes. Kindness is free. Why not sprinkle it everywhere?

"Responding to a comment with kind words and saying thank you are two of the kindest things you can do. Compassion and empathy shine through when you are being kind to others.

"Spontaneous kindness is one of life's greatest assets. It is giving of yourself with a generous and considerate spirit and expecting nothing in return.

"This could be simply holding the door for someone or helping another person return their grocery cart to the corral. Another favorite and well-known form of spontaneous kindness is paying for someone else's meal. Just a smile or kind word can make a bigger impact on someone's life than you would ever realize.

"The person receiving your kindness is usually grateful for the gesture. But also, as the giver, you're left with a helper's high which is great for both physical and mental well-being. Kindness can also strengthen relationships with family, friends, or co-workers. Another benefit is feeling connected to others and perhaps, avoiding the feeling of loneliness.

"We've experienced extreme kindness the last two years as the world felt the effects of the pandemic. Neighbors helped neighbors. Businesses worked with employees. Restaurants fed those in need of a meal. The list of kind gestures is long and impressive.

"To be most effective, genuine kindness must become a habit instead of an occasional gesture. Start with a smile. Simply smile at the people you pass on the street or in the elevator. Be sure to smile at the person checking your groceries and always smile for your family. Regular, even daily, kindness makes us a better person, not only for ourselves, but for everyone we encounter.

"While reaching out to others in kindness shows compassion, don't overlook the power of self-kindness. Positive self-talk, gratitude, and meditation are just a few of the ways to shower yourself with self-kindness. Taking care of yourself gives you the physical, mental, and emotional spirit to share love and kindness with others.

"The power of a single act of kindness is the ripple effect as good deeds are passed on and on. If you were inspired by the kindness of Betty White, use your motivation to continue her positivity and spread kindness every day. Yes, kindness can make the world a better place."

Read more about acts of kindness in Louise Pistole's book, Discover Your Joy at https://www.louisepistole.com.

Discover Your Joy

How does one actually live a life filled with joy? Best-selling author and motivational speaker Louise Pistole has discovered the key to doing just that. She gives us that key in her best-selling book, 'Discover Your Joy: Daily Splashes of Inspiration for Living an Abundant Life of Happiness, Blessings, and Inner Peace'. It is a book unlike any other you will ever read.

While many of us believe that happiness is found at the end of some long, arduous process, it is instead that we begin from a state of joy. Some of us have it backwards. Joy is not a reward - it is a choice. And because it is a choice, it is something over which we hold total control. That choice can be made now - today.

Many of us feel hopeless and joyless. Perhaps our intentions are out of alignment with our actions. Surprisingly we can live in joy every day of our lives, but again - it is a choice.

"I made my choice one Sunday morning about 12 years ago when my minister spoke about being joyful and watching out for joy-stealers," Pistole stated. "His message resonated with me and I began my journey to joy through reading, studying, and writing. As I began choosing joy day after day, it gradually became a habit in my life. Now my mission is to guide others to discover their own joy through these daily inspirational readings."

In Discover Your Joy, readers will:

• Enjoy daily inspiration for happiness and joyfulness,
• Learn how to live an abundant life filled with gratitude, hope, and joy,
• Discover inner peace through encouraging words,
• Discover how to become a Joy-Fanatic and enjoy one's best life.

A quick inspirational read every morning helps readers discover 'moments of joy' each day. Chock-full of encouragement and motivation, readers will learn to seek and experience gratitude, hope, and true joy.

Readers and reviewers alike have praised 'Discover Your Joy'. One said, "Each page in "Discover Your Joy" is a simple and beautiful reminder that the world may not be perfect, there will always be the ups and the downs, but we have the ability to CHOOSE each day how we will use this gift we call life. I highly recommend this book!!" Another stated, "Pistole gives great insight into ways to remind us that our joy is important and to beware of "joy stealers". This book is a great way to start your mornings with a great cup of coffee and to discover your joy each and every day!"

Louise Pistole is available for media interviews and speaking engagements and can be reached using the information below or by email at pistole9
gmail.com. 'Discover Your Joy: Daily Splashes of Inspiration for Living an Abundant Life of Happiness, Blessings, and Inner Peace' is available in several formats at Amazon and other book retailers. Reduced pricing on the ebook version of the book runs through January 7, 2022 at Amazon. More information is available at her website at https://www.louisepistole.com.

About Louise Pistole:

Louise Pistole is a best-selling author, blogger and motivational speaker who encourages others to seek their own joy, no matter where they are on their journey through life. She and her husband reside in North Carolina.