Crow writes meticulously researched, entertaining novels of romance, history, adventure and mystery in an engaging you-are-there style that allows readers to live the history. Reviewers have compared her work with PD James, Dan Brown and Barbara Pym.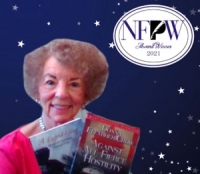 FOR IMMEDIATE RELEASE / PRURGENT

Award winning author Donna Fletcher Crow recently won national second place honors in the National Federation of Press Women's national communications contest for her novel 'Against All Fierce Hostility,' Book 6 in the Monastery Murders. The entry was recognized in the Fiction for Adult reader's category. She also won third place honors in short story compilation category for her entry 'A Lighted Lamp, Scenes of Christmas Through Time.'

According to a press release issued by NFPW, "prior to winning on the national level, the four won first place honors in an Idaho communications contest sponsored by Media Network Idaho, the state affiliate of the national organization."

After the announcement Crow said, "I am honored and delighted by these awards. They were extremely competitive and it meant a great deal to me to be judged by a group of highly competent professionals.

"Every entrant at the national level had already been distinguished with first place honors in state competitions. In my case the state citations came from Media Network Idaho.

"I first joined the National Federation of Press Women in the late 1980s and have always been impressed by the energy and professionalism of its members. Since then the organization has expanded widely to include professionals in all forms of media and electronic communication and has continued to maintain its high level of excellence in every area.

"I was fortunate to be able to write 'Against All Fierce Hostility' during the Covid lockdown because only a few months earlier my husband and I had taken the train journey across Canada which serves as the background for the book. The story is a departure for my Monastery Murder series because, rather than being set in England as all the other titles are, it is set in Canada. My hero Antony is invited to lecture on the British saints who inspired the founding of Toronto and his wife Felicity couriers an ancient manuscript connected with Saint Patrick to monasteries in Montreal and Vancouver."

Canadian reviewer Janelle Watkins wrote in "The Scene in Toronto:" In Against All Fierce Hostility, Donna Fletcher Crow allows you to take the fanciful trip we all wish we could embark on during these strange times. It's an all-frills-and-chills included journey that takes the reader through the beauty and vast grandeur of Canada. Crow's characters whisk you away as you become engulfed in the thrill and wonder, with several spots of murder for every fan of a good monastery mystery.

Crow also commented that her winning short story collection 'A Lighted Lamp, Scenes of Christmas Through Time' was a new venture for her. "I have always preferred working in longer formats, but I found forging short stories from scenes in novels I had previously published was a thoroughly enjoyable challenge. I have since added a Short Story category to my blog 'The Authorized Version,' including the seasonally appropriate 'A Nostalgic Look at the Fourth of July'."

Dolores Gordon-Smith, critically acclaimed author of the Jack Haldean Golden Age murder mystery series said about 'A Lighted Lamp:' In a collection of stories ranging from Scotland a thousand years ago to modern England (with visits to the American prairie in between) Donna Fletcher Crow brings to life the true meaning of Christmas in this faith-filled and heart-warming book.

Donna Fletcher Crow is the author of 50 books, mostly novels of British history. She has taken a number of high-level industry awards for her work. Also, many of her books have been bestsellers in their categories.

'Glastonbury' is her best-known book, which received the prestigious First Place, Historical Novel, award from the National Federation of Press Women. Readers and reviewers have raved about 'Glastonbury', calling it "The best of its kind," "richly fascinating," "beautifully researched," "gloriously evocative," and "panoramic." One Amazon reader said, "WHAT a work! Every reader can be enveloped in the sheer scope and quality, every historian be constantly nodding at the precise detail and accuracy, and every Christian can rejoice in the fullness of scripture. For me it is simply beyond descriptive praise. I would urge all who value truth to treat themselves to a feast."

The Monastery Murders Series features atmospheric contemporary crimes with their roots buried deep in the middle ages. Books in the series include 'A Very Private Grave', 'A Darkly Hidden Truth', 'An Unholy Communion', 'A Newly Crimsoned Reliquary', 'An All-Consuming Fire' and the newly-released 'Against All Fierce Hostility.'

The Elizabeth & Richard Mysteries is a literary suspense series using literary figures as background: Rudyard Kipling in 'The Flame Ignites', Dorothy L Sayers in 'The Shadow of Reality', Shakespeare in 'A Midsummer Eve's Nightmare', and Jane Austen in both 'A Jane Austen Encounter' and 'A Most Singular Venture'. Watch for 'A Prodigious Sum of Corpses: Seeking Sanditon at Jane Austen's Seashore', which will take readers to all of Austen's favorite seashore resorts. Accounts of Crow's visits to these sites are available on her blog under the heading "Jane Austen Seashore Tour."

The Daughters of Courage, 'Kathryn', 'Elizabeth' and 'Stephanie' is a pioneer family saga based on the stories of Crow's own family and other Idaho pioneers in the Kuna, Nampa and Boise area. A short story on her blog entitled "A Nostalgic Fourth of July" is based on a scene from 'Kathryn: Days of Loss and Hope'.

Where There is Love is a 6-book series of the enduring legacy of love and faith all based on historic people and events. The titles are: 'Where Love Begins', 'Where Love Illumines', 'Where Love Triumphs', 'Where Love Restores', 'Where Love Shines', and 'Where Love Calls'.

The Lord Danvers Victorian true-crime series is an Amazon bestseller in the British Detectives category. Books in the series include 'A Lethal Spectre', 'A Most Inconvenient Death', 'Grave Matters', 'To Dust You Shall Return' and 'A Tincture of Murder'. Donna provides a no-charge download of 'A Tincture of Murder' for those who sign up for her newsletter. More information is available at her website.

Donna Fletcher Crow's awards include:

Where Love Begins, Best Historical Romance, Pinnacle Awards 2019
A Lethal Spectre, Best Mystery, Pinnacle Awards, 2019
Glastonbury, First Place, Historical Fiction, National Federation of Press Women Award of Merit
The Banks of the Boyne, Silver Angel; First Place Historical Fiction, National Federation Press Women
The Fields of Bannockburn, First Place Historical Fiction, National Federation Press Women
Professional Achievement Award, Northwest Nazarene College
Juvenile Books Award of Merit, Idaho Press Women
Top Idaho Author
Pacesetter Award, Mt. Hermon Writers Conference
Outstanding Historical Fiction, Idaho Press Women, National Federation of Press Women,
Idaho Writer of the Year
Best Inspirational Novel, Finalist Romance Writers of America
Writer of the Year, Mt. Hermon Writers Conference

Donna is available for media interviews and can be reached by email at donna
donnafletchercrow.com. All of her books are available at online book retailers. More information, including a no-charge download of 'A Tincture of Murder', is available at her website at https://www.donnafletchercrow.com.

About Donna Fletcher Crow:

Donna and her husband live in Boise, Idaho. They have 4 adult children and 15 grandchildren living on 3 continents. Donna is a former English literature teacher and lifelong Anglophile. Idahoans with long memories will remember her as a former Queen of the Snake River Stampede, Miss Rodeo Idaho and runner-up for Miss Rodeo America. She is an enthusiastic gardener.