Tech company Artificial Paintings creates and sells not only digital images with a square orientation but with a landscape one. With the possibility to print any digital artwork on canvas in a high resolution, clients can buy an NFT token that will easily fit into their interior design.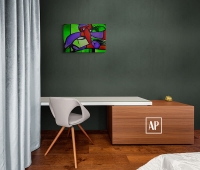 FOR IMMEDIATE RELEASE / PRURGENT

Artificial Paintings has made it possible, with the help of AI, to generate digital artworks in landscape orientation. Rectangular images are the most popular type of image orientation, which is more convenient in interior design compared to square orientation. It perfectly fits the majority of design solutions, as its rectangular nature suits the standard space layout. Such images can be used in any room with traditional ceilings, filling the design gaps. Households can hang them in kitchens, dining rooms, bedrooms, and even bathrooms.

Before, the AI-based algorithms created digital images with square orientation only. Now, they are available in a landscape one, as well. All the digital artworks come in an SVG graphics format, which allows printing in any required size without losing in resolution. The paintings can be printed on both canvas and paper. Users can buy an AI-generated image with all the rights for further usage on the official Artificial Paintings website (https://artificialpaintings.com).

Artificial Paintings uses AI-based algorithms that can create digital artwork. Each image has no analogues and is developed exclusively by software. In the future, he plans to expand his experience and attract more clients by partnering with more NFT marketplaces.