In honor of the 700th anniversary of the death of the great Italian poet Dante Alighieri, a special edition entitled "The Gems of Dante's Divine Comedy" has been published by Da Vinci Press.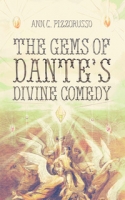 FOR IMMEDIATE RELEASE / PRURGENT

The author, Ann C. Pizzorusso, a geologist and Italian Renaissance scholar has analyzed the epoch poem from a gemological standpoint and has found a veritable treasure trove containing rubies, topazes, emeralds, sapphires, pearls and diamonds, as well as crystal, amber and glass.

Dante was well aware of the intrinsic physical characteristics of each gemstone and its astrological association as well as the spiritual, metaphysical, and medicinal attributes each was purported to possess. His working knowledge of light's reflection, refraction and dispersion on specific gems is extraordinary as he combines the knowledge of a physicist with the words of a bard.

Using beautiful illustrations and gemological passages from the Divine Comedy, the author shows how Dante used the physical attributes of each gem to describe the intrinsic characteristics of humans, souls, saints and finally to the divine – as portrayed by a brilliant, spotless diamond.