The Write Aide announces the release of Broken Strings, the sequel to Strings Attached by author P. K. Wayne.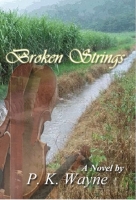 FOR IMMEDIATE RELEASE / PRURGENT

Atlanta, GA -- February 10, 2021 – Dr. P. K. Wayne details the secrets surrounding Georgia's first sugar plantation owned by Negros in her new book released today. The novel offers insight into the complex duality of being both a freed Negro and slave owner compelled to 'fit into' mainstream Southern, white culture in 19th century America. Broken Strings provides readers with an in-depth perspective of lesser known part of American history. The book was released by The Write Aide and is available through www.Amazon.com and other online book retailers.

In a recent interview Wayne discussed the slave saga. "The series illustrates the intersected lives of Negro slaves and Negro slave owners alike. We are widely, uninformed of the freed Negro's role in the American slave trade. The novel engages the audience with characters that toe the line of dichotomy. Broken Strings delves into all the things that people will do for love, wealth, legacy and family. At its essence, this book is about the misdeeds that fuel lies and how decisions to deceive impact those around us and ultimately, distort our understanding of our history."

When Victoria's husband Charles Delaney died suspiciously, she became the owner of the same plantation she worked as a slave hand. Her newly acquired inheritance quickly made her possibly one of the wealthiest women in Georgia and hands down, the most hated. Victoria's successful reign is tested by politically ambitious men, Mother Nature and a swarm of slaves she's left scorned. So begins the deeply, disturbing Antebellum chronicle of a woman's struggle with secrets, slavery, Southern society and sexism. Life on this Georgia sugar plantation is anything but sweet when deep-rooted secrets begin to unearth.

The novel is available in online bookstores in paperback and ebook format through Kindle. For more information about Broken Strings or P. K. Wayne, please contact Brian Jones at 404-454-1963.

P. K. Wayne is the author of several children's books and the fiction novel, Strings Attached, which started the haunting, historical epic about slavery in the South. The Georgia novelist received a bachelor of arts in political science from Spelman College and later, a master's and doctorate in education. Dr. P.K Wayne is a lover of poetry, African-American studies and traveling.