Leonardo da Vinci's painting the Virgin and Child with St. Anne, has been the subject of speculation by historians, occultists, art critics, psychiatrists and medical doctors ever since it was painted circa 1501-1517. When Leonardo saw the breathtaking beauty of the Dolomites in northeast Italy in 1500, he found the inspiration for one of his most complex and metaphysical works. Using geology as a tool, author Ann C. Pizzorusso unlocks the symbols and secrets which are hidden in the painting.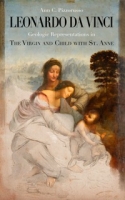 FOR IMMEDIATE RELEASE / PRURGENT

loring the symbols and esoteric meaning attributed to Leonardo da Vinci's painting the Virgin and Child with St. Anne has just been released by geologist and Renaissance scholar, Ann C. Pizzorusso. The book, entitled "Leonardo da Vinci: Geologic Representations in the Virgin and Child with St. Anne", debuted at #1 in the nature category and #4 in the European art category on Amazon Kindle.
The author explores the speculation surrounding the painting by historians and occultists ever since it was painted circa 1501-1517. In it, the Christ child is shown clutching a sacrificial lamb, symbol of His Passion, while the Virgin reaches over to restrain Him and her mother, St. Anne, looks upon them wistfully.

Art critics, psychiatrists and medical doctors are among the many who have been fascinated with this painting. Each has interpreted it to reflect his own profession: Bernard Berenson, the art critic, disliked the composition because it appeared as if St. Anne was crouching, Sigmund Freud found deep psychological implications in the representation of the Virgin and St. Anne, and a medical doctor imagined seeing ensanguined embryos in the pebbles below St. Anne's foot. According to art historian Patrice Boussel: "Many consider the St. Anne a treasure trove of esoterica and occult wonders; some see in it the expanding cosmos and an all-embracing system of beliefs".

Yet when the author, a geologist and scholar of Leonardo da Vinci read these opinions, she became curious. She knew that when Leonardo left Florence for Milan in 1482, he spent considerable time exploring the Alps and in 1500 when he arrived in the Veneto region, he became fascinated with the Dolomites, part of the northestern Alps.

She immediately recognized the land forms and unique geology of the area depicted in the painting. Her sluething allowed her to address the many myths associated with the work and explain them using geology.