Crow writes meticulously researched, entertaining novels of romance, history, adventure and mystery in an engaging you-are-there style that allows readers to live the history. Reviewers have compared her work with PD James, Dan Brown and Barbara Pym.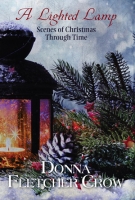 FOR IMMEDIATE RELEASE / PRURGENT

A Google search on "best books for Christmas" returns just over 3.6 million listings. There is a lot of interest in Christmas books, and for good reason. Christmas and books just seem to go together somehow. Giving and receiving books as Christmas gifts is a universal Western tradition, as no movie, television show, radio drama or podcast could ever provide the immersive getaway experience that a good Christmas book can provide.

Unlike years gone by, finding the time to kick back, relax and read a Christmas book might be difficult in our modern day rush-rush-rush of Holiday preparation, shopping, Christmas gatherings and office parties. This year is different however, as this might be the only year in recent memory in which we actually have time to enjoy a leisurely read – one that can take us away from pandemics, travel restrictions, political upheavals, and all the rest. Award winning author Donna Fletcher Crow has a personal list of favorite Christmas books. She recently made some recommendations for Christmas reading

"For all of my adult life I have had a cherished fantasy. I see myself, with all my preparations done, lying on the sofa in front of the Christmas tree reading a Christmas novel. No matter that it never happens, I continue to hold to the shining image.

"2020 just might be the year. In spite of all the frustrations—and for some people real tragedies—of Covid-19, all the enforced closures and restrictions have given many of us more time. Perhaps enough time, even, to read a Christmas novel in front of a decorated tree.

"With that happy thought in mind—and we do need happy thoughts these days—I'm delighted to recommend some of my favorite seasonal reads.

"My annual daydream began way back in 1972 when Marjorie Holmes published "Two From Galilee." This charming re-telling of the traditional Christmas story is the first of a trilogy by Holmes and has become something of a classic.

"Anne Perry is one of my perennially favorite authors. Her cozy Victorian mystery novels always deliver well-developed characters and well-researched history. Beginning in 2003 with "A Christmas Journey" Perry wrote a Christmas novella every year for 9 years, ending with "A Christmas Homecoming" in 2011. In each one, she draws from her rich stock of minor characters to feature them in new locations and situations outside her regular series.

"Another Victorian delight is Liz Curtis Higgs' Christmas novella "A Wreath of Snow." On Christmas Eve in Scotland, a young schoolteacher's plans are frustrated and her life changed when her train journey home is upset by heavy snows and a mysterious stranger. My interview with Higgs about the background of the book is available on my blog.

"This year I have the fun of being able to offer a new book of my own for your Christmas reading list. "A Lighted Lamp, Scenes of Christmas Through Time" is a collection of stories ranging from Scotland a thousand years ago to modern England (with visits to the American prairie in between) as people through the ages find light and hope in the joy of the season.

"For a more thorough exploration of the season, in an unusual setting, "An All-Consuming Fire," book 5 in my Monastery Murders, features a Christmas wedding in a monastery—if the bride can escape the murderer stalking the Yorkshire moors."

Donna Fletcher Crow is the author of 50 books, mostly novels of British history. She has taken a number of high-level industry awards for her work. 'Glastonbury' is her best-known book, which received the prestigious First Place, Historical Novel, award from the National Federation of Press Women. Readers and reviewers have raved about 'Glastonbury', calling it "The best of its kind," "richly fascinating," "beautifully researched," "gloriously evocative," and "panoramic." One Amazon reader said, "WHAT a work! Every reader can be enveloped in the sheer scope and quality, every historian be constantly nodding at the precise detail and accuracy, and every Christian can rejoice in the fullness of scripture. For me it is simply beyond descriptive praise. I would urge all who value truth to treat themselves to a feast."

The Monastery Murders Series features atmospheric contemporary crimes with their roots buried deep in the middle ages. Books in the series include 'A Very Private Grave', 'A Darkly Hidden Truth', 'An Unholy Communion', 'A Newly Crimsoned Reliquary', 'An All-Consuming Fire' and the newly-released 'Against All Fierce Hostility.'

The Daughters of Courage, 'Kathryn', 'Elizabeth' and 'Stephanie' is a pioneer family saga based on the stories of Crow's own family and other Idaho pioneers in the Kuna, Nampa and Boise area. A short story on her blog entitled "A Nostalgic Fourth of July" is based on a scene from 'Kathryn: Days of Loss and Hope'.

Where There is Love is a 6-book series of the enduring legacy of love and faith all based on historic people and events. The titles are: 'Where Love Begins', 'Where Love Illumines', 'Where Love Triumphs', 'Where Love Restores', 'Where Love Shines', and 'Where Love Calls'.

The Elizabeth & Richard Mysteries is a literary suspense series using literary figures as background: Rudyard Kipling in 'The Flame Ignites', Dorothy L Sayers in 'The Shadow of Reality', Shakespeare in 'A Midsummer Eve's Nightmare', and Jane Austen in both 'A Jane Austen Encounter' and 'A Most Singular Venture'. Watch for 'A Prodigious Sum of Corpses: Seeking Sanditon at Jane Austen's Seashore', which will take readers to all of Austen's favorite seashore resorts. Accounts of Crow's visits to these sites are available on her blog under the heading "Jane Austen Seashore Tour."

The Lord Danvers Victorian true-crime series is an Amazon bestseller in the British Detectives category. Books in the series include 'A Lethal Spectre', 'A Most Inconvenient Death', 'Grave Matters', 'To Dust You Shall Return' and 'A Tincture of Murder'. Donna provides a no-charge download of 'A Tincture of Murder' for those who sign up for her newsletter. More information is available at her website.

Donna Fletcher Crow's awards include:

Where Love Begins, Best Historical Romance, Pinnacle Awards 2019
A Lethal Spectre, Best Mystery, Pinnacle Awards, 2019
Glastonbury, First Place, Historical Fiction, National Federation of Press Women Award of Merit
The Banks of the Boyne, Silver Angel; First Place Historical Fiction, National Federation Press Women
The Fields of Bannockburn, First Place Historical Fiction, National Federation Press Women
Professional Achievement Award, Northwest Nazarene College
Juvenile Books Award of Merit, Idaho Press Women
Top Idaho Author
Pacesetter Award, Mt. Hermon Writers Conference
Outstanding Historical Fiction, Idaho Press Women, National Federation of Press Women,
Idaho Writer of the Year
Best Inspirational Novel, Finalist Romance Writers of America
Writer of the Year, Mt. Hermon Writers Conference

Donna is available for media interviews and can be reached by email at donna
donnafletchercrow.com. All of her books are available at online book retailers. More information, including a no-charge download of 'A Tincture of Murder', is available at her website at https://www.donnafletchercrow.com.

About Donna Fletcher Crow:

Donna and her husband live in Boise, Idaho. They have 4 adult children and 15 grandchildren living on 3 continents. Donna is a former English literature teacher and lifelong Anglophile. Idahoans with long memories will remember her as a former Queen of the Snake River Stampede, Miss Rodeo Idaho and runner-up for Miss Rodeo America. She is an enthusiastic gardener.