As the pandemic continues, art galleries and shows are moving to virtual showrooms and pushing online art auctions. Research shows a large dip in spending on art and a growing discontent with these forms of commerce. Art Party Central offers an increasingly popular alternative, allowing buyers and makers to mingle and interact in an intimate, enjoyable setting.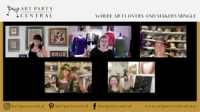 FOR IMMEDIATE RELEASE / PRURGENT

We live in a world awash with virtual Galleries, an abundance of impersonal online Art auctions, and numerous art consultants. Art Party Central is a different and better way to experience the Art World in these socially distant times. As the holiday season approached, Karla Gudeon of Karla Gudeon Art & Design, Meghan Patrice Riley of Meghan Patrice Riley Jewelry, Samantha Stone and Nora Swan of Swan&Stone Millinery, and Kathleen Tesnakis of Ekologic Clothing & Accessories joined together to form an online collective to recreate the interactive and collaborative nature of the Art Show circuit.

"Most of us need interaction to inspire our work," says Samantha Stone, one of the two milliners at Swan&Stone Millinery. "Shows were the air that fed our creative fire, and without them so many of us felt ourselves start to stagnate. These parties are breathing life back into our work."

Features and benefits of Art Party Central include.

• Connecting dynamic, independent designer and lifestyle brands with curious, discerning and fun-loving shoppers
• Allowing party goers to see behind the scenes into the creative processes of the artists they meet
• Supporting artists whose livelihoods have suffered during the pandemic
• Nurturing independent artists and allowing people to support small businesses in an intimate, social setting
• Allowing artists and patrons to form personal connections so important in this distanced world

While Art Party Central formed in response to what we all hope is a temporary pandemic, it's become clear that it is an idea whose validity will outlast COVID-19. Art Parties remove travel challenges for artists and customers, provide opportunities for connection world wide, and expand the world of fine art in a dynamic way. We expect to morph into a world where in-person art shows return, but Art Parties continue to thrive.