Joel Steele's Philosophy of War provides a unique and captivating analysis on the theory of war assessed through the lens of the most impressive theorists the world has known.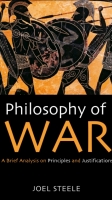 FOR IMMEDIATE RELEASE / PRURGENT

The material provides complex, but comprehensible insights into theories on war and justification for waging war.

San Diego, California – 10/05/2020 - The narrative in Philosophy of War centers on the importance and continued relevance of proven concepts regarding war and societies, provided by minds with advanced foresight into the subject. Prominent generals from the past and present have studied these theories and military institutions all over the world continue to practice their strategies.

This contribution is unique because it articulates and analyzes how these theories apply to a variety of conflicts across a vast stretch of history—from antiquity through the nuclear age. It will be especially alluring for those interested in military thought rather than someone interested in a simple account of events unfolding in a certain war.

"It should be evident that these theories are relevant for any duration of the past, present, or future. They function as a substrate on which complex social issues can be channeled; they are the anvil on which empires are foraged." ~Joel Steele

The book is available at Amazon, Barns & Noble, and most book stores.
Joel Steele studied philosophy at the University of North Carolina as an undergraduate. He received a Master of Arts in Interdisciplinary Studies from Liberty University.

Steele's inspiration for writing this book comes from a combination of his time served in the military and his dedication to studying military history in graduate school.