An inspirational keynote speaker and trainer, Romanella is founder and principal of 3SIXTY Management Services, LLC. He has over 40 years of leadership at Fortune 100's. His approach to leadership can be a game changer for anyone who serves in a leadership role.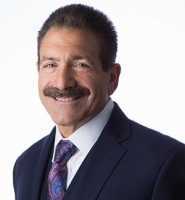 FOR IMMEDIATE RELEASE / PRURGENT

The coronavirus pandemic has impacted every area of our lives and we, as a society, may be growing tired of it but we must stay strong and focus on the day we return. But the reality is Covid fatigue has set in. While most of the news seems to be negative, there is also a real chance to turn a negative into a positive; to turn adversity into opportunity beginning today. One way we can do that is to use the downtime to create an upsurge. Today, more than ever before, we need to be proactive and creative in our approach to the rebuilding process and get off to a running start - to position ourselves for spectacular results and to emerge from this unfortunate event stronger, leaner and more capable.

Top keynote speaker Rocky Romanella has implemented two ideas to serve as "Covid Fatigue Re-Energizers":

He has made his award winning, 5-star book, 'Tighten The Lug Nuts: The Principles of Balanced Leadership', available as a download at Amazon at no charge for five days beginning July 29, 2020.

He also offers virtual keynotes and training sessions available to provide the "energizing fuel" for a Rapid Rebuild coming out of the pandemic. He is one of the first to offer virtual keynote addresses, training sessions and weekly conference calls. He refers to this as the "The Rapid Rebuild". He recently explained how we can come off the starting block strong and position ourselves for explosive growth through taking a soul-searching Leadership Skills Inventory. The main sections in the model developed by Romanella include:

What is your Business Acumen?
How are you at Creative Problem Solving?
Where do you stand with Seasoned Judgment?
How is your Broad-based Leadership?
How are your Communication/Interpersonal Skills?
What about your Personal Integrity?
Explain your Marketing and Sales Savvy?
How do you Manage Customer Relationships?
How do you Focus on Results?
What is your Leadership Development/Succession Planning?

Each of these sections is then broken down by asking another series of questions related to each key concept. More on the Leadership Skills Inventory, virtual keynotes, training sessions, virtual meetings and conferencing calls, training workshops, strategy sessions and general information on the relaunch of the economy is available at Romanella's website at https://3sixtymanagementservices.com.

Romanella has held conferences, training workshops, leadership and sales discussions and strategy sessions on the relaunch of the economy and their businesses with many companies representing many industries. The response has been overwhelmingly positive.

As a special incentive for those who are ready for a Rapid Rebuild, Rocky will be offering meeting calls at no charge for those who purchase 20 or more copies of 'Tighten The Lug Nuts'. Contact Rocky for details at rockyromanella
gmail.com, and or 610-322-0720 to schedule your session.

With over 40 years of "boots on the ground" leadership experience, Rocky Romanella is one of the best keynote motivational speakers in the country and internationally. He has spoken in large and small venues all over the US including cities such as Atlanta, San Diego, Las Vegas, Phoenix, NYC, Dallas, Chicago, Miami, Houston, LA, Charlotte, and many others. Internationally, he has presented keynotes in Toronto, Mexico City, Milan, London, and Krakow. He is known for creating excitement through his energy, passion, and knowledge, while employing his talents and experience to motivate, inspire and entertain audiences, regardless of size.

Romanella has garnered praise for his ability to connect to a wide range of audiences with his storytelling ability and innate charisma. Richard Snowden, President of Raven House International said, "An engaging speaker and facilitator, Rocky leads business executives to break-through results through break-through thinking." Conrad Swanson, Sr. VP Agency Development of Arpin Van Lines Inc. stated, "Rocky inspired many to look inward and improve the way they operate their businesses and lead their team members."

A winner of the UPS Chairman's Award for Excellence, Romanella has created a legacy of motivating teams to achieve their best. He pulls in audiences with real life stories from an illustrious career spanning nearly 40 years at one of the most recognized and admired brands in the world. Rocky brings leadership expertise in supply chain, logistics and transportation, retail, sales and operational excellence strategy, telecommunications engineering/construction management and installation. Having led many company sales efforts, rapidly building brands, restructuring events, and developing a culture needed to integrate past acquisitions, he inspires audiences to create a unified company with one vision.

Rocky Romanella is available for keynote speaking engagements and media interviews. He can be contacted using the information below or by email at rockyromanella
gmail.com. Full information on 3SIXTY Management Services, more information on keynote speaking and 'Tighten The Lug Nuts' is available at the company website at https://www.3sixtymanagementservices.com.

About Rocky Romanella:

After an illustrious career spanning nearly 40 years focused on supply chain, logistics and transportation, retail, sales and operational excellence strategy at UPS – including The UPS Store franchise network and UPS Supply Chain Solutions – Rocky Romanella became the Chief Executive Officer and Board of Director for UniTek Global Services, a provider of engineering, construction management and installation services to companies specializing in the telecommunications field.

Rocky is currently the Founder and CEO of 3SIXTY Management Services, LLC, a management consulting firm specializing in Executive Speaking, Leadership Development and Consulting Services. He also serves on the board of Goodman Networks, a leading provider of end-to- end network infrastructure, field and professional services to the wireless telecommunications and satellite television industries.

Rocky is an experienced CEO who led one of the largest rebranding initiatives in franchising history – The UPS Store, revolutionizing the $9 billion retail shipping and business services market.

While leading The UPS Store, the network increased retail unit, same-store sales by 5.8%, outpacing the National Retail Federation results of 4.6% during a recession.

Rocky steered UPS's entry into the health care industry and created the mantra, "It's a patient, not a package. ®"

He also led the integration of more than 20 acquisitions to improve financial performance, capabilities, and global network footprint.

Through his executive roles and leadership advisory services, Rocky delivers results by developing and implementing his Balanced Leadership Model across enterprise operations. This includes a laser focus on customer needs, employee empowerment and the demands of shareholders.

Rocky has the rare ability to see a clear vision of the changing business landscape, the passion to develop strategies, tactics, and metrics to drive desired results.