The leading drone insurance company releases its new online platform created to serve drone pilots, fleets, brokers and partners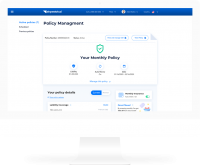 FOR IMMEDIATE RELEASE / PRURGENT

Palo Alto, California -- July 8, 2020 --SkyWatch.AI, the leading telematics-based drone insurance company released today their new online policy management platform. The revamped platform offers an advanced streamlined user experience with a modern design and improved functionality when purchasing and managing drone insurance policies. The system was created to help drone pilots, fleet managers, brokers and affiliate partners easily control and manage their insurance online.

The new comprehensive platform is currently available on web and mobile web, and will soon be released for SkyWatch.AI's mobile app as well.

Throughout the new system's development process SkyWatch.AI participated in Google for Startups Growth Program. Under the guidance and mentorship of Google's expert team, SkyWatch.AI's R&D team developed this innovative drone insurance management system. "During the program, we provided SkyWatch with the best of Google to help them grow. It was a great pleasure to have the SkyWatch team on our program, watching them achieve new targets," says Lior Noy, Startups Growth Lead at Google Israel.

"We are thrilled to debut our improved drone insurance policy management system to insured SkyWatch.AI pilots, our affiliate partners, brokers, and to the drone industry as a whole," says Ori Blumenthal, SkyWatch.AI's CTO and Co-founder. "The SkyWatch.AI R&D team created an exceptional User Experience that keeps drone pilots' needs at the center focus."

"This platform reflects our desire to keep drone insurance simple and flexible, while also allowing us to scale our operation together with our partners," Lior Geller, SkyWatch.AI's Head of Product. "We want our pilots to have a painless experience when it comes to managing their insurance, which is why many of the new features were inspired and tested by our pilot community."

About SkyWatch.AI
SkyWatch.AI is the world's first telematics-based insurance platform for the drone industry. The SkyWatch.AI platform leverages the power of machine learning to assess and mitigate risks and provide tailor-made hourly, monthly and annual coverage for drone pilots across the United States and Canada. Since 2018, SkyWatch.AI has provided thousands of commercial drone pilots with flexible insurance coverage.

Drone insurance is provided by SkyWatch Insurance Services, Inc. a licensed insurance broker in 50 US states and Canada. SkyWatch.AI's policies are underwritten by STARR Indemnity & Liability Company, the largest aviation insurer in North America. ("A", excellent rating by A.M. best).

For more information, visit www.skywatch.ai

About Google Start Growth Lab
Startup Growth Lab is Google's exclusive program for Israel's promising B2C and B2SMB startups, aiming to accelerate their business growth. The 6 month program is comprised of educational workshops such as brand communication strategy, Product and UX/UI as well as ongoing 1:1 mentoring provided by Google and industry experts. Some of the program's graduates: DayTwo, Elementor, Freightos, Bookaway, Melio, Guesty and SkyWatch.?