New book by "Life Cycles" author Neil Killion introduces a brand new form of coincidence, with fascinating mini-bios of famous people throughout history. Uses email and interview transcripts with leading Skeptics organisation to show how they have no answer for a test they themselves agreed to. Everything you wanted to know about coincidences and more with first-hand accounts of all other leading theorists.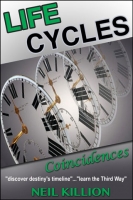 FOR IMMEDIATE RELEASE / PRURGENT

A totally new and novel form of coincidence will be introduced and discussed based on my radical theory of 12 year cycles in lives, using only biographical evidence. The people involved have no knowledge of the ways their lives are joined by events in certain key years.

Whereas statisticians and rationalists have convincingly argued that most conventional coincidences can be explained by mathematical principles as, "to be expected in a large population, or a result of after-the-fact thinking" these new objective and predetermined coincidences are much harder to dismiss. They represent an alternative method, called 'the third way'.

The lives of many famous public figures from history to the modern day are analysed in depth and any lovers of biographies and little-known stories will be well satisfied. The landmark study of the 10 most famous people of the 20th century will be included.

Discussion of many issues is based on email correspondence and interview transcripts with all the major players on both sides of the debate. This adds a unique and very personal touch as you get to hear exactly how they think and respond. Key evidence for the instantaneous transmission of bodily sensations over large distances is explored in depth. There is coverage of the historical development of coincidence theories and they are critiqued and debated.

In a special investigation, a series of discussions with one of the world's leading skeptical organisations is presented. There is a direct challenge to disprove 'Life Cycles Theory' using an objective test they themselves agreed to. The sensational outcomes and their implications are unveiled.

There is also coverage of all the well-known adult developmental psychologists and their theories are also critiqued. Every conceivable viewpoint on the subject of coincidences goes under the microscope. This even extends to the philosophical debate on free will versus determinism. The third way of finding proof is presented as a new approach to this age-old debate.

The Epilogue is a special section featuring fantasy prose, that will address all the main issues and end on an enigmatic note. This is the fourth book in the Life Cycle series and it is written to the same structure and method used in all the others.