Jeffrey Morelli, Vice President and Co-Founder of Inspiren, wins Product Developer of the Year award for Inspiren's continuous ambient automated monitoring platform.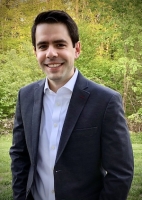 FOR IMMEDIATE RELEASE / PRURGENT


NEW YORK, NEW YORK — Jeffrey Morelli, Inspiren's Vice President of Technology Delivery, was named the winner of a Gold Stevie® Award in the Product Developer of the Year category in The 18th Annual American Business Awards®. More than 3,600 nominations from organizations of all sizes and in virtually every industry were submitted this year for consideration in a wide range of categories.

The winning nomination reflected Jeffrey's exemplary product vision to revolutionize patient care by empowering providers with clinical insight derived from a patient's environment. Inspiren's flagship product, "iN", uses data synthesized from its sensor-based technology to enforce safety protocol in hospitals and eliminate adverse events through proactive alerts. iN has been deployed at a top hospital in NYC and produced statistically significant results in improving bedside care and reducing patient falls.

"It has truly been an honor to be recognized on behalf of the Inspiren team for this prestigious award that would not be possible without the collective efforts of clinicians, engineers, and product designer working together."

More than 230 professionals worldwide participated in the judging process to select this year's Stevie Award winners. Judges commented, "Remarkable leadership shown by Jeffrey Morelli for leading the product development of indeed a game changer in Medicine."

More recently, iN has been deployed at the epicenter of the Covid-19 outbreak in NYC, and has provided staff with unprecedented contact tracing data through advanced analytics as part of Inspiren's Infectious Disease offering. "We remain steadfast in partnering with front line staff to fight Covid-19 with our innovative product capabilities," says Jeffrey Morelli.

Details about The American Business Awards and the list of 2020 Stevie winners are available at https://stevieawards.com/aba/product-management-new-product-awards.

About Jeffrey Morelli, MBA
Jeffrey Morelli is a technology transformation leader and prior to co-founding Inspiren, led the cloud practice at Accenture for key clients within the Life Sciences and Healthcare vertical driving the strategic agenda of technology and services. He holds a Master's Degree in Business Administration and Healthcare Management from Johns Hopkins University and several certifications across major cloud-based technologies.

About Inspiren
Inspiren, a nurse-led technology company, is dedicated to helping hospitals and elderly care facilitates reduce adverse events, ensure staff safety and satisfaction, and mitigate infection control. Inspiren's platform, "iN", is an award winning, computer vision and hybrid sensing technology that intelligently analyzes patient behavior, interactions between providers and patients, room environmental factors, IoT enabled medical devices, and personal protective equipment, to provide unparalleled insights to protect patients and safeguard staff. Inspiren (Brooklyn, NY) is located in the 84k square foot innovation space New Lab at The Brooklyn Navy Yard.