Premium features and elegant design are hallmarks for first ever weekender bag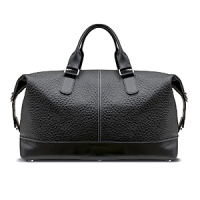 FOR IMMEDIATE RELEASE / PRURGENT


MacCase has just unveiled their new Premium Leather Overnight Bag, perfect for the upcoming holiday travel season. The bags are designed to make a visual statement and to hold everything someone would need for several days away. The full-featured weekender bags are available in 2 colors.

"For a long time our customers have been taking our world class laptop and tablets cases and putting them in other people's overnight bags when they traveled. Now they can put them in ours. Whether you choose the black or brown, these are overnight bags you're going to be proud to carry. The designs are timeless and built with a substantiality that you can feel", explained MacCase President and Chief Creative Officer Michael Santoro.

The black version juxtaposes high-embossed textured hides against smooth semi-gloss leathers crafted with white stitching. The other color option is MacCase's signature raw, unfinished "Vintage" brown. Each handmade piece features a fully padded and lined interior with 8 pockets, 4 step "mushroom" pin adjustability that allows for expansion, reinforced foldaway handles, top of the line YKK zippers and bottom feet to prevent premature wear. Each piece also includes a matching luggage tag. The new leather Overnight Bag MSRP is $599.95 and is available exclusively at the MacCase website: https://www.mac-case.com/collections/leather-shoulder-bags-s/products/premium-leather-overnight-bag

About MacCase

MacCase invented the Apple specific case market in 1998. The company offers two distinct products lines, one in nylon and one in leather that consists of a broad range of cases, messenger bags, sleeves, folios and backpacks for Apple MacBook Pro and iPad models. MacCase products can be found at, MacMall, UnbeatableSale, Shopladder, Walmart.com, B&H and Ebags. MacCase products can also be purchased directly from www.mac-case.com.