2PDF – a free PDF command line converter for Windows – gets the very first release. 2PDF 1.0, working from command line interface, brings many new features to batch convert documents and images from Command Prompt or a script file.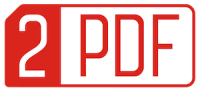 FOR IMMEDIATE RELEASE / PRURGENT


Riga, Latvia -- 2PDF gets the very first public release under version 1.0. fCoder 2PDF is a professional command-line utility for conversion of multiple documents to the PDF format. This converter created by fCoder IT developers can work from any command-line interface (Command Prompt, Windows PowerShell, etc.) or via a simple Visual Basic script or a batch (BAT) file. This is a Windows application for silent conversion of documents and images in batch mode – from one folder to another.

2PDF available at https://www.cmd2pdf.com/ has many features to offer, such as abilities to rotate PDF pages, compress output file size, manage multipage documents, add watermark, and more.

What's inside 2PDF 1.0:


Ability to convert to PDF or PDF/A
Ability to convert all files from a selected folder (including subfolders)
Ability to combine all files from a folder to a single multipage file
Ability to set the file name for a combined multipage file
Ability to OCR files to searchable PDF (6 languages available)
Ability to convert all files listed in a text file
Ability to convert CAD drawings
Ability to combine multiple PDFs into a single PDF file
Ability to split multipage files into separate PDF pages
Ability to set manual or auto page rotation (portrait, landscape)
Ability to set page range
Ability to delete source files after conversion
Ability to set the output file name template
Ability to handle file attachments
Ability to sort output files by a certain parameter
Ability to add text watermark and adjust settings
Ability to add image watermark and adjust settings
Ability to compress output PDF file size (DOC, DOCX > PDF)
Ability to quickly merge a large number of files - read more about it at https://www.cmd2pdf.com/features/merge-pdf-in-command-line
Ability to password-protect one or multiple files
Ability to remove password(s) from one or multiple files


2PDF's list of supported formats includes Microsoft Office formats (DOCX, XLSX, PPTX) as well as images (JPEG, PNG, BMP, GIF, TIFF) and less common formats such as CDR, PCX, DCX, different RAW photos, and many more.