Mizo Amin guides young students on how to become a professional athlete through 4 steps .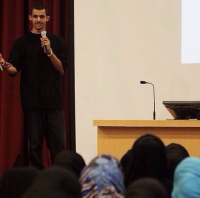 FOR IMMEDIATE RELEASE / PRURGENT

Last week, Qatar University was pleased to have invited basketball player and athlete, Mizo Amin (28), to give an hour-long seminar to students who are interested in becoming athletes.

In his talk, he tackled important points and mentioned his favorite athletes, and all of the figures who helped him recognize his dream.

Amin said he had wanted to become a basketball player ever since he was 6 years old. At the time, he did not know it was a paying job, but he had always believed that if you excel in anything you love, you can find a way to earn money through it. Amin believes in the laws of attraction which state that one can simply attract into their lives whatever they focus on. He gave multiple examples on how he has used the attraction method throughout his life. For example, how he has mentally attracted his dream, as well as its financial benefits.


On this note, Amin shared his personal take on becoming an athlete in the following steps:



Step 1: Believe in Yourself

Everyone has a unique talent or ability, whether it is strength, skill, courage, intelligence or just confidence. Unfortunately, not many people believe in the quality of their abilities. To live life as you desire, and achieve the goals and dreams that you have mapped out for yourself—you need to believe—take action based on what you are capable of doing, in the present and future.
"Shoot for the moon. Even if you miss, you'll land among the stars," Amin quoted Norman Vincent Peale, to support the idea that even if you didn't achieve the goal in which you've originally aimed for, you'd still be somewhere better than where you've started.

Step 2: Master Your Talent

You can learn to master almost anything in the world through numerous practices and experience. With the correct amount of effort and just the perfect does of focus and commitment, you have already established the strategy to mastering your talent or ability. All that will be left to do is apply it properly, and learn how to grow and extend through this talent.

Step 3: Confidence and Discipline

Be confident in your work, and discipline yourself as much as you can. Become your own best coach and worst critic. Consistency is the key to success. So, workout at the gym constantly, it's guaranteed that you will increase your capability in bodybuilding, which eventually will improve performance in the game.

Step 4: Professional Work Ethics

"To make it to the top, you have to work harder than anyone else," Amin said. For athletes, skipping practice is a not acceptable, repeating the mishap is even worse, and making multiple excuses for it is definitely a part of work ethic. Arriving on time for practice shows good work ethics. Go to great lengths to ensure your win, even if you have to practice overtime, do it. Advice your teammates to work harder. "Michael Jordon was known to practice for ridiculous hours a day, and overtime, his teammates Scottie Pippen and others followed suit, until Chicago Bulls became one of the best NBA teams through sheer work ethics and determination," Amin explained. Finally, take care of your body like professional players do—eat healthily, sleep well, and stretch out regularly.