Ted GLXRY announced new unreleased Remix collaboration with Chris Whitener from MagicalButter.com. They are calling all chefs, dancers and patrons to help celebrate their release!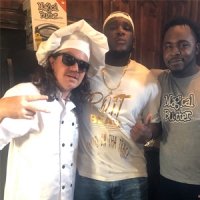 Recently Ted GLXRY announced a Remix collaboration with Chris Whitener from MagicalButter.com

MagicalButter IS NOW LAUNCHING a viral dance challenge inspired by the new song "Canna Butter Whippin" (Remix). The lifestyle brand MagicalButter has surprised fans by releasing the "Canna Butter Whippin' Remix" on 29 July (19), the same World Star Hip Hop drops the music video, featuring Ted Glxry and C.W.

C.W and Ted Glxry have confirmed a LIVE performance August 24th at High Times Cannabis Cup 2019 in Oklahoma City.

The track has sparked a new viral dance challenge, for chefs and dancers showing off whippin' routines they've created to the song, which features directional lyrics such as,

"Still in The Kitchen, Canna Butter Whippin" / "Tempo 160º it's getting Sticky"

MagicalButter.com launches the #CannaButterChallenge on their Instagram Stories on Monday July 29th by promoting the hashtag #cannabutter.

The company is sharing dozens of video submissions from dancing fans showing off their moves.

The single "Canna Butter Whippin' Remix" is on all streaming services - including Spotify and Apple Music.


ATTENTION
Calling all Chefs!

Please share a video of yourself in your chef gear in the kitchen doing your best dance moves.

Time to show off your culinary flow the internet is buzzing with this new dance challenge for the latest single, "The Canna Butter Whippin Remix"

WE are making a VIRAL video here at MagicalButter.com and would like you to be apart of it.


Sharing Details

We are sure you will love "Canna Butter Whippin" and would love if you created a short cell phone video of you dancing with the song in the background.

MagicalButter is sure to return the love and feature your video on
MagicalButter Instagram & Facebook stories.

If you choose to create a video be sure to tag our handle and include the hashtags so we can reshare!
MagicalButter #cannabutter


Instagram:

tedglxry

whitener__

MagicalButter

Search Youtube for the "Canna Butter Whippin" (Remix) Official Music Video

Follow Ted Glxry and C.W Spotify


Ways to share...

1 x Instagram post featuring you dancing tagged
magicalbutter and #cannabutter

1 x Instagram story featuring MagicalButter shoutout

1 x Video that features you dancing to "Canna Butter Whippin" remix



Single Information

Artist: Ted GLXRY featuring C.W Chris Whitener of MagicalButter.com
Track: Canna Butter Whippin' Remix
Released: 2019
Genres: Alternative Hip-Hop/Rap
Record Label: Slurbaby Muzick



Source Cited: http://vertexviral.com/news/
Article Cited: https://hype.news/embedded/newsroom/32c34c6a-4701-4396-979c-569a321ec5bd/story/595fb67c-1bb6-4af9-8e38-f9e990c66bc4

Vertex Viral handles digital media marketing as well as consultation. Vertex Viral strives to bring you the latest news from the Biggest industry artists as well as the hottest independent up and comers.