Your Southeast Asian Travel Checklist: 9 Need-to-Know Tips for a Perfect Southeast Asian Trip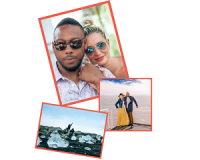 FOR IMMEDIATE RELEASE / PRURGENT


Southeast Asia is going through something of a travel renaissance. East Asia has the fastest growing tourism industry in the world, and it seems to be that every 5th social media post is a picture of someone petting an elephant in Indonesia or visiting one of the many temples scattered around eastern and south eastern Asia. While it's clear what attracts people to Southeast Asia; rich culture and history, incredible food and low budgets; knowing where to start is another story. With this in mind, Chris and Reg Travel bring you every tip and detail you need to know to help prepare for, execute and return from your dream Southeast Asian trip.

Use these tips to help plan, orchestrate and enjoy your next trip, or first trip, to Southeast Asia. No matter what your destination, whether you are a travel veteran or noob, there are some must-follow guidelines such as tops that cover your shoulders and bottoms that cover your knees, these are a must for temples, and should be included in what you decide to bring along.

Knowing, for example, that you'll need to bring DEET virtually everywhere you go, or that the Philippines is often one of the most underrated destinations in Asia or that Taiwan is secretly one of the best food destinations in Southeast Asia will help guide you as a master travel planner to make the best decisions pre-trip, during your trip, and post-trip.
Fascinating information like, Thailand being the last military controlled state in the world, and other cool facts will be covered in Chris and Reg Travel's 9 Need-to-Know Tips for Southeast Asian Travel.


Tip #1: If There's Heat, bring the DEET (and maybe even a Sheet)
Tip #2: Wear Sleeves, Pants/Long Skirt for Temples (and ditch the beach sandals)
Tip #3: Our Stats on Countries (with a little help from our friends!)
Tip # 4: Go Between October and May
Tip #5: Thailand Fast-Facts
Tip #6: Tourist Zones are Packed so Take a Look Outside of Them Sometimes
Tip #7: Continue Your Education at Home
Tip #8: Reflect on your experiences
Tip #9: Plan Your Next Trip!


We will continue to provide advice for traveling to different parts of the world, and will be doing a European guide soon! Be sure to stay tuned. Chris and Reg Travel loves to help travelers of all experiences in their travel planning and we also love to hear back from readers once they've come back!

We invite you to connect with us, comment or follow us on Social Media! Let's build a bigger and better travel community!