The annual conference Financial Planning for Public Company Executives & Directors, held by myStockOptions.com on June 18, 2019, attracted financial advisors from all over the United States to hear talks from leading industry experts.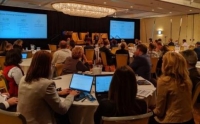 FOR IMMEDIATE RELEASE / PRURGENT

Brookline, MA -- "The only conference of its kind: a tremendous opportunity to learn from the best in executive comp financial planning."

"Opened my mind to new ways to manage stock comp!"

"One-stop conference to learn everything about long-term incentive comp."

These were just some of the glowing attendee responses to the conference Financial Planning for Public Company Executives & Directors (https://www.mystockoptions.com/conference). Organized by myStockOptions.com (https://www.mystockoptions.com), a leading source of educational content and financial-planning tools for equity compensation, the event was held on June 18 in the San Francisco and Silicon Valley area. It attracted financial advisors from all over the United States: professionals who work with or seek to advise executives, directors, and key employees who have stock compensation, holdings of company stock, and other company benefits, such as nonqualified deferred compensation. With its delivery of practical expertise, the conference was approved to offer 8.0 continuing education credits for CFP® professionals and for the CIMA® and CPWA® certifications of the Investments & Wealth Institute®. Certified Equity Professionals (CEPs) who attended earned 7.0 continuing education credits.

"Financial-planning clients and their families look to equity comp or company stock holdings to fund important life goals," observes Bruce Brumberg, the editor-in-chief of myStockOptions.com. "They rely on advisors for help in how to maximize, preserve, and transfer their wealth and how to prevent them from making big mistakes." Accordingly, the myStockOptions conference team selected stock comp topics that are especially important for advisors to understand in serving financial-planning clients at public and pre-IPO companies.

Attendee Evaluations: "Wisdom, Expertise, And Good Easygoing Vibes"

The conference received many positive reviews from attendees. "I thought it was lot of diverse information from very reputable sources," said one attendee afterwards. "It was good to hear about trends in the industry and learn from colleagues." One advisor, from a major brokerage firm, particularly liked "the networking" and "appreciated the opportunity to meet with RIAs we work with and ones we do not."

"I would definitely recommend this conference to anyone on the advisory side of working with public-company executives," asserted another attendee. "myStockOptions.com is still the best resource I've found as an advisor who serves this niche market."

A selection of other attendee comments:


"Wisdom, varied perspectives, expertise, and good easygoing vibes."


"Great content and timely for my practice."


"Eight hours of CFP continuing education in one day—very time-efficient."


"The presenters were at the highest level."


The enthusiastic feedback and constructive suggestions received will help to shape similar events in the future. The 2019 conference built upon the sold-out success of the 2018 myStockOptions conference, which was held in the Boston area.

myStockOptions thanks those who attended, speakers, and the conference's sponsors: Columbia Threadneedle Investments, Fidelity Charitable, StockShield, Charles Schwab, StockOpter, UC Berkeley Extension, Social Security Solutions, and the National Association of Stock Plan Professionals. The conference location, the Hilton San Francisco Airport Bayfront, was an excellent, convenient venue for the event.

Conference Sessions: Engagement With Expertise

With an engaging range of practical topics, the talks and panel discussions of the 2019 conference featured a distinguished speaker lineup of top industry experts. Many are leading advisors involved with financial, tax, and legal planning for stock compensation, holdings of company shares, and executive retirement plans.

In a focused yet relaxed environment for learning and networking, attendees enjoyed the following sessions:
Leading Financial Advisor Reflects On His Career Working With Executives: Tim Kochis, Founder and CEO of Kochis Global (former CEO of Aspiriant)


Tax Myths And Facts With Equity Compensation


Trends In Stock And Executive Compensation: What Stock Plan Participants Need And Want, And How Advisors Can Help


Important SEC Rules And Legal Developments Impacting Financial Planning For Stock And Executive Compensation


Attracting And Retaining Individuals Who Receive Company Stock And/Or Options


Planning Strategies For Stock Options, Restricted Stock/RSUs, Performance Shares, And Company Stock Holdings


Estate Planning And Charitable Giving With Company Stock And Equity Comp


Rule 10b5-1 Trading Plans: Cornerstone Of Legal Protection For Stock Diversification


Strategies For Concentrated Positions In Company Stock


Stock Grant, Employment, And Severance Agreements: Key Documents For Advisors To Understand And How To Help Clients Avoid Big Mistakes


Donor Advised Funds Versus Charitable Foundations: What's Best For Your Client


Nonqualified Deferred Compensation: What Advisors Must Know To Advise Executives


Pre-IPO Company Financial Planning
Based on feedback from financial planners and wealth advisors who use the website's content, tools, and advisor directory, the myStockOptions financial-planning conference meets a strong but previously unmet need for guidance in these subject areas. Moreover, a recent national survey of 1,000 stock plan participants by Charles Schwab found that while half understand the long-term value of their equity compensation, many are hesitant about exercising stock options or selling shares because of anxiety that they will make a costly mistake. The survey suggests that improved education and guidance would reduce this fear factor.

myStockOptions, myNQDC, And Conference: Three Resources, One Mission

The mission of the conference is also one of the perpetual missions of myStockOptions.com: to provide an independent, unbiased source of educational content and tools on all types of equity compensation. Full access to the website is available via Premium or Pro membership levels. Additionally, the website's extensive and engaging educational content on all aspects of equity compensation can be licensed by stock plan service providers, companies with stock plans, and financial advisors. The content includes not just easy-to-understand articles and FAQs but also videos, podcasts, modeling tools, and fun quizzes on many different topics.

Similarly, the goal of myNQDC.com (http://www.mynqdc.com) is to provide educational content and tools that help executives, employees, and their financial advisors understand and make the most of nonqualified deferred compensation (NQDC). With clear writing and independent, unbiased expertise, myNQDC.com seeks to make them smarter about not only the basics of NQDC but also the related financial planning, taxation, risk, and legal issues. The conference session on NQDC plans and the related financial strategies was highly attended.

About myStockOptions.com

With exclusive articles, 800+ FAQs, podcasts, videos, the Tax Center, interactive quizzes, the Learning Center with courses for CE credit, the Global Tax Guide, an extensive glossary, a smartphone app for iOS and Android devices, and dynamic patented tools, myStockOptions.com is the premier online resource of educational content and tools on stock options, restricted stock, restricted stock units, performance shares, stock appreciation rights, and employee stock purchase plans. myStockOptions.com is written and managed by leading experts in equity compensation, and is produced by a company with a long history of successful publications explaining complex legal and financial subjects in plain English.

The accounting journal CPA Wealth Provider selected myStockOptions.com among companies "that have taken the lead through innovation, efficiency, initiative, or growth in the financial-planning area." The Specialized Information Publishers' Foundation honored MSO Pro with one of its Editorial Excellence Awards in the category of Best Interactive Content among niche publishers. The influential consumer magazine PC World has ranked myStockOptions.com among "the most useful sites ever" that "deliver top-notch information, support, and services."

myStockOptions.com has also received extensive favorable coverage in the media, including BusinessWeek, The Wall Street Journal, The New York Times, the San Francisco Chronicle, and The Boston Globe, and on CNN, National Public Radio, PBS, Money.com, and MarketWatch.com.

myStockOptions.com has a related site on nonqualified deferred compensation at http://www.myNQDC.com. The staff also created the successful insider trading prevention video series Think Twice, available at http://www.insidertradingvideos.com.

For more information, please contact Bruce Brumberg and Matt Simon at 617-734-1979.