After the great success of artist and author Carmen Gloria's debut children's book "Thank You Mercury!" of the Kid Astronomy series, she launches the second book "Dear Pluto" and it is FREE this weekend from June 21-June 23, 2019 on Amazon.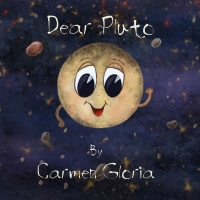 FOR IMMEDIATE RELEASE / PRURGENT


Artist and writer Carmen Gloria's debut book "Thank You Mercury!" Has received some great reviews and even landed on the Best New Space Books 2019 list by Book Authority. Now the second book in the Kid Astronomy series "Dear Pluto" just launched on Amazon.

To celebrate this success and the Summer Solstice, Uncommon Grammar and Carmen Gloria are giving away the eBook for free on Amazon this weekend, from Friday, June 21st through Sunday, June 23rd, 2019.

Carmen Gloria hopes the book reaches as many children as possible and believes kids should have access to learning no matter where they are.

To access the free download, please go to the link to "Dear Pluto" at https://www.amazon.com/Dear-Pluto-Kid-Astronomy-Book-ebook/dp/B07T68GC74/.

For more information and links on reviews, you may visit carmengloria.net.