During the book launch week 6/5-6/7, No Fricken Weigh, 21 Days to Ditch the Diet and Lose Weight the Keto Way By Loving Yourself to Health is Free on Kindle.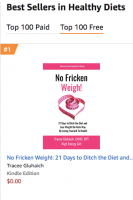 FOR IMMEDIATE RELEASE / PRURGENT

Tracee Gluhaich, am Integrative Health Coach and Personal Trainer is giving away her 21 day Keto Transformation Challenge, with book purchase.

The challenge includes meal plans, workouts, self-care practices, and mindset work. You will transform your energy into a fat-burning machine.

If you've ever...
-lost weight and gained it back
-deprived yourself of the foods you enjoy, while on a diet
-eaten junk food when you were not even hungry
-or are tired of starting over on Monday,

Then this book and challenge is for you!

You will learn how to engage in loving self-care, eat nourishing foods that provide massive energy, move your body in empowering ways, and create a mindset of strength. Start reading now and finally achieve the energy and positive body image you deserve.