Users can publish freely to the Animiz Cloud platform after designing their stunning animation videos.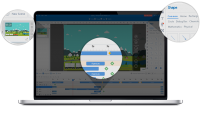 FOR IMMEDIATE RELEASE / PRURGENT


Cartoons make a lasting impact on the viewers' minds. They describe the most critical aspects of business brands and products to convince viewers to take action. Animiz provides plenty of 3D online templates for creating videos for business, technology, education, and other animation projects. The free cartoon animation software enables users to present their brand stories differently in an innovative way. Users can customize their projects by adjusting the content, filling them with decoration effects and more to produce beautiful presentations that resonate with audiences. The 3D cartoon animation software is ideal for video content marketing where users develop stunning animated videos for branding, promotion, and marketing.

"At Animiz, we ensure that users enjoy creating stunning video presentations with realistic characters that appeal to all audiences," said Jason Chan, Manager of Animiz. "By combining exciting cartoon characters with visual appeal, they will make their video content marketing look more professional and convincing. Our software has built-in roles that will help them select the best roles to give their videos the right expressions. They will also customize the animations with motion, body, emotion, and action. Adding personal recording and stunning voice-over narrations to videos will make their characters realistic and attention-grabbing."

Professionally designed 3D cartoon video animations from Animiz are mobile-friendly. Viewers can engage with high quality visual stories on their devices and easily relate to users' brands. Animiz allows users to publish their captivating 3D videos to their cloud platform. This helps them gain exposure and enhance their marketing efforts. By adding the most suitable descriptions, titles and categories to their creations, they increase their indexing on Google and receive maximum SEO value. SEO-optimized content will earn them high ranking on the search engines and increase their conversion rates as well.

"Our free cartoon animation software comes with plenty of beautiful scene transitions including, spin in/out, fade, slide, dissolve and much more," continued Mr. Chan. The flexible transitions allow animated videos to play clearly in a natural way. Apart from the scene transitions, we also provide hand-drawn animation effects that give the animated videos more fascinating and vivid looks."

Animiz allows users to design high definition animated videos in various formats including AVI, FLV, MOV, MP4, WMV, and MKV, or save them in GIF format. Based on their needs, users can customize the frame and voice rates as well as video sizes before publishing them. The GIF formats can be played on continuous loops with customized GIF sizes and frame rates. Animiz permits users to publish their 3D animated videos directly to their Cloud and share them with worldwide audiences on YouTube and social media platforms.

About Animiz

Animiz provides endless publishing and marketing solutions to enterprises and marketers looking to enhance their marketing efforts. The company has various software products that help users design and share animated video presentations for content marketing. For more information, please visit http://animiz.com/.