New Folio Style Cases feature Magnetic Modular Accessory System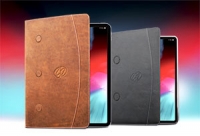 FOR IMMEDIATE RELEASE / PRURGENT


MacCase has begun shipping their new Premium Leather iPad Pro cases for the 3rd generation, 2018 12.9 iPad Pro and the 11" iPad Pro models. The new folio designs feature a polymer tray that secures the Apple tablet to the case and provides protection. In addition, the company's Magnetic Modular Accessory System is part of the design. It allows for the attachment of 4 optional iPad accessories, which expands functionality and allows for a certain degree of customization.

"This is our 9th year of making the best iPad cases and these new models follow on the tradition of excellence that MacCase represents. If you're tired of buying case after case, none of which ever meets your needs for functionality, quality or professionalism, you owe it to yourself to have a look at our new models. The designs are radical and not for everyone. There's never been anything like the combination of handmade quality, material science and versatility that our new Premium Leather 2018 iPad Pro 12.9 case and 11 iPad Pro case provide", explained Michael Santoro, Chief Creative Officer and President of MacCase.

The 4 optional accessories include a case for the Apple Pencil, a documents holder, a business card holder and a small pouch for cables, adapters and other accessories. The company's leather iPad Pro case are favored by professionals around the world due to their timeless designs and unrelenting quality. More information on the MacCase Premium Leather iPad Pro case for the 3rd generation 12.9" and 11" is available at the company's website, https://www.mac-case.com/collections/ipad-folio-cases

About MacCase
MacCase invented the Apple specific case market in 1998. The company offers two distinct products lines, one in nylon and one in leather that consists of a broad range of cases, messenger bags, sleeves, folios and backpacks for Apple iPad Pro and MacBook Pro models. MacCase products can be found at Ebags.com, LuggaePros.com, B&H, Walmart.com, Staples.com, OfficeDepot.com and MacMall. MacCase products can also be purchased directly from https://www.mac-case.com.