Sean Mulroney is proof that a New Year's resolution can lead to REALIZED positive results. In fact, his 2017 resolution has, in fact, morphed into an Obesity Revolution and is now a MOVEMENT impacting the lives of people around the world in a VERY positive way. After asking for help from a score of trainers, Sean Mulroney received a phone call from trainer, Brandon Glore, of Prescription Fitness/Fit Body Boot Camp. With Brandon's expertise, patience and a humble willingness to learn from Sean, Mulroney lost 107 pounds in less than one year. Sean began posting his weight loss journey on Facebook and Instagram in January 2017.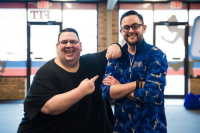 FOR IMMEDIATE RELEASE / PRURGENT

St. Louis, Missouri, January 7th, 2019 - Sean and Brandon's social media posts have received millions of views. Many of the people reached comprise the roughly 15 million of America's morbidly obese. They have inspired others to embark on their own health and weight loss journeys. One such woman, who suffers from morbid obesity, sent him a video of her walking across her bedroom for the first time in years. She is now mobile after having been previously confined to her bed and a wheelchair.

One local news story, by Mandy Murphy of Fox 2 News in St. Louis, received over 6 million views world-wide: https://fox2now.com/2017/11/02/st-louis-mans-incredible-weight-loss-journey-an-internet-sensation/ .
Facebook link: https://www.facebook.com/iamseanmulroney .

"I never set out to be popular," says Mulroney, "I just wanted to get my mobility back and be there to walk my daughters down the aisle on their wedding day. I knew that if I didn't hold myself accountable and work hard to become healthy, I likely wouldn't be alive to be there for them. They are my WHY. No one wants to lose weight and become healthy more than a person struggling with obesity. "

Fitness industry leaders are now reaching out to Sean and Brandon. "I received education to train world class athletes," says Brandon. "Training and learning from Sean has been a blessing. Now, instead of helping athletes take a half-second off their personal best, I'm helping to change and, in some cases, SAVE lives. My training and nutrition methods work for anyone. Shape and size is irrelevant. But, with the morbidly obese we ARE breaking new ground, for sure."

Brandon expanded the training program to include ten more morbidly obese people. In a healthy and sustainable way, "The Ten" have lost over 700 pounds collectively in under 12 months. Two no longer take diabetes medicine.

Physicians and behavior science experts are also taking notice. Dr. Kipp Van Camp of Kansas City Missouri was so intrigued after meeting Sean, he became his personal doctor. "People are drawn to Sean and I'm no different," remarks Dr. Van Camp. "He's challenged me and he's right to challenge the medical community. I view obesity as one of the last social prejudices in America…and, the medical community, itself, is not immune. For people in Sean's position, the mantra of 'exercise more and eat less' is often a fallacy. Sean and others in his situation have a myriad of medical complications that often make it incredibly difficult for them to lose weight. That said, Sean's expectation and that of anyone obese should be to receive the best 21st century treatment available…physically, chemically and psychologically."

San Diego's, Michael Mantell Ph.D., wrote his graduate school thesis on the psychology of obesity. Working in the fitness industry for many years, an expert on behavioral science and no stranger to national television and radio talk shows, Dr. Mantell agrees with Dr. Van Camp. "To do what Sean is doing requires mental and emotional fortitude", Dr. Mantell explains. "Being prepared emotionally is crucial. Just as important is having a non-judgmental, socially acceptable atmosphere in which to train…but, one that also stresses accountability both singly and collectively."

Sean, Brandon, Dr. Van Camp (Dr. Kipp) and Dr. Mantell are available for TV, radio & podcast interviews on the subject of obesity, fitness-centric new year's resolutions, etc. For media appearances please contact Scott Ragain: 314-795-9262, scott
egmediagroup.com .

More information can be found at https://theobesityrevolution.com .