Paradisus Dei, creators of the international men's ministry That Man is You!, is pleased to announce the release of it's latest production, The Door – The Power of Presence music video, about the power of a father's presence in his family.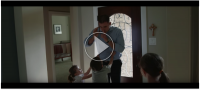 FOR IMMEDIATE RELEASE / PRURGENT


HOUSTON, TX - August 15, 2018 - Paradisus Dei released The Door – The Power of Presence music video to rave reviews. This music video enhances Paradisus Dei's offerings to men through their life-transforming ministry, That Man is You!

The Door – The Power of Presence is a short film that enters into a daily decision point for men. It shows the dynamic impact a father can make to his entire family with a simple choice. The video reminds men of their incredible vocations as husbands and fathers to bring joy into their homes.

Good men, who sacrifice and work so hard to provide for their families are faced with what has been called "the daily drama of fatherhood." These are good men, who love God, who love their families. On one hand, men are called to be providers. On the other hand, nothing replaces a man's loving presence and relationships with his wife and children. Between these two great callings exists a daily tension that so many modern men face.

Mark Hartfiel, Vice-President of Paradisus Dei describes his brother's experience, "… his wife sat him down…she told him 'if you are going be on a work call just don't come home until you are done. You are sending a message to our kids that work is more important than them.'" As Mark and his brother spoke about this experience, a simple resolution was born. "Before you get out of the car each day, decide what kind of husband and father you are going to be when you walk through the door to your home," said Hartfiel. This was the foundational thought behind The Door.

Reactions to the video have been incredible:

"Wow!!!!! I am moved, inspired, and motivated, not to mention convicted, by this amazing video," said one man.
Another viewer offered, "Amazing! I am teary eyed as I watch this video and am touched by the Holy Spirit! I cannot wait to share it with every man I know."

One viewer described the impact, "Talk about gut wrenching. Talk about being hit between the eyes."


When asked what Paradisus Dei hopes to accomplish with the video, Hartfiel said, "We desire to spread it far and wide and then let God work in the hearts and minds of his people. It's really this simple, I want your family to experience more joy. More smiles, more laughter and more joy. As the family goes, so goes society and the church." Those viewing the music video are encouraged to share it far and wide, with family, friends, and colleagues.

About Paradisus Dei: Founded in 2001, Paradisus Dei helps families discover the superabundance of God within marriage and family life. Current programming serves couples, men and youth in 44 states and five countries. These programs have been independently verified to be profoundly life transforming. Paradisus Dei is an independent, lay Catholic ministry dedicated to marriage and family life. For more information, please visit www.paradisusdei.org.