The latest update 9.5.21 of Voice Changer Software Diamond made several basic changes in the software program, including removing Hook Mode, and establishing Virtual Audio Driver as the default output choice.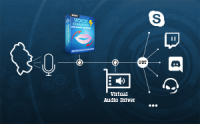 FOR IMMEDIATE RELEASE / PRURGENT

Audio4fun, the authorized publisher of the premium audio morphing tool Voice Changer Software Diamond, just released new build 9.5.21 of the software, establishes Virtual Audio Driver (VAD) as the default output choice. Accordingly, Hook Mode was eliminated, so that users are no longer confused between the 2 methods. More information about Voice Changer Software 9.5 is accessible at https://www.audio4fun.com/voice-changer.htm

Chris R.F., Head of Audio4fun Quality Administration, commenting on the change, said it will not affect Voice Changer Software's performance nor the quality of the user's experience. "This definitely was not a risk-free decision; our users might miss the Hook Mode application features. However, after almost 10 years of research and development, Virtual Audio Driver (VAD) is the best technical direction for the future," stated Chris.

VAD ensures compatibility with every VoIP programs, web-based chat clients, in-game chat applications and other PC audio software.
Audio4fun was one of the first innovators to integrate virtual driver technologies into their audio and video morphing software development. Virtual Audio Driver (VAD) allows users to conveniently pick and switch among various audio outputs for their voice modification results; whether they are doing real-time voice conversation, making narration recordings, or creating audio story books. Different from Hook Mode, which captures all audio streams existing on a computer, VAD works more precisely and stably when audio output selection is totally at user's hands, controlled through a single driver.

Hook Mode is old fashioned, say hello to File Morpher.

File Morpher is an exclusive feature only available in the Diamond edition of Audio4fun's Voice Changer Software series. It lets users import batches of ready recordings, then morph and process them in just 1 click. File Morpher completes Voice Changer Software Diamond's mission as an all-in-one audio home station, not only as a fun tool for real-time voice calls, but also as a productive audio editing platform.

More specific update notes for Voice Changer Software Diamond, as well as a software trial download link, can be found at https://www.audio4fun.com/voice-changer.htm

---------

About Audio4fun:

Throughout many years of development, Audio4fun has been promoting audio and video software technology and specializing in three core areas: Audio and Video Morphing Algorithms, Audio and Video Stream Interception, Audio and Video Real Time Effecting. Its strategic products include Voice Changer Software, Music Morpher, Webcam Morpher and Video Morpher. All the products of Audio4fun are detailed at www.audio4fun.com.