We are proud to announce that Digitcom is the first provider in Canada to build and sell Avaya's latest hosted solution "Powered By", as of June 1st.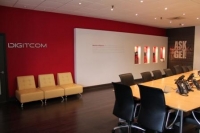 FOR IMMEDIATE RELEASE / PRURGENT


For anyone familiar with Avaya, "Powered By" continues their field-dominating quality by offering a hosted solution that brings together IP Office-level functionality and cloud flexibility and scalability.

Not only does Digitcom own the complete work, we are also the only provider in Canada to wholly own the Avaya "Powered By" platform and SIP trunks. For reference, competitors resell someone else's network and SIP trunks.

Digitcom is an Avaya Diamond SME business partner with full network facilities and field staff, able to support a complete end-to-end solution.

Digitcom founder and owner Jeff Wiener said the following:

"Digitcom is proud of our strong 14-year relationship with Avaya, and of our Diamond reseller status. We have sold almost 2,000 Avaya phone systems across Canada and the USA since 2004. Digitcom's deployment of the Avaya 'Powered By' Cloud solution, which effectively brings the Avaya IP Office into the cloud, serves to further strengthen the partnership between the two companies."

Digitcom is proud to have the opportunity to work with Avaya and to sell their latest product.
--
Digitcom has 26 years experience working with Canada's business community, helping to solve all their telephony challenges. If you are interested in running the most reliable phone system on the market, then contact us at 1-866-667-8357.