Classic games such as Uno and Skip-Bo are being replaced by games with spunk and character such as Camping with Sasquatch and Exploding Kittens.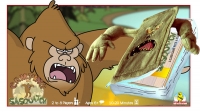 FOR IMMEDIATE RELEASE / PRURGENT

Just as classic games were starting to make a comeback, "out with old and in with the new" has become the new mantra as games such as Camping with Sasquatch, Exploding Kittens and Ultimate Werewolf are taking over with increased creativity, more extensive design and eye-catching artwork.

"Over the past few years, it's been fascinating to see games shift from just numbers on a card to creating games with character and, well..characters," said Alex Mackey, co-creator of the currently running Kickstarter campaign card game, Camping with Sasquatch.

While Exploding Kittens, which found its success through Kickstarter, plays differently than Uno or Skip-Bo, it is geared toward a similar demographic and it takes about the same amount of time to play. However, it has found a way to extend its brand by using off-the-wall artwork by The Oatmeal.

"It's cool to see T-shirts, plushies and even keychains that have spawned from Exploding Kittens. If it follows the pattern of Angry Birds, it's very possible that a movie could follow," Mackey said.

Camping with Sasquatch is another card game that is challenging games like Uno and even traditional face cards by offering a game that is fun, quick and for the whole family, but with entertaining images. Targeted as THE game to take camping, Camping with Sasquatch is a hybrid of Slapjack and Rummy, but like Exploding Kittens, uses artwork commissioned by a comics artist.

"We designed Camping with Sasquatch so that it's not just cute, but the characters could extend the brand with an intellectual property that can cross over into many different avenues," said Mike Szalajko, co-creator of Camping with Sasquatch.

As games continue to grow in popularity and the market expands, expect to see not just new intellectual properties emerge, but perhaps the next pop cultural maelstrom will emanate from a game at the table.

Camping with Sasquatch is available now on Kickstarter with added Kickstarter exclusive options. The campaign ends on July 17, 2018. Visit LethalChickenGames.com for more info. Exploding Kittens and Ultimate Werewolf are available at Target, on Amazon and at retailers nationwide.